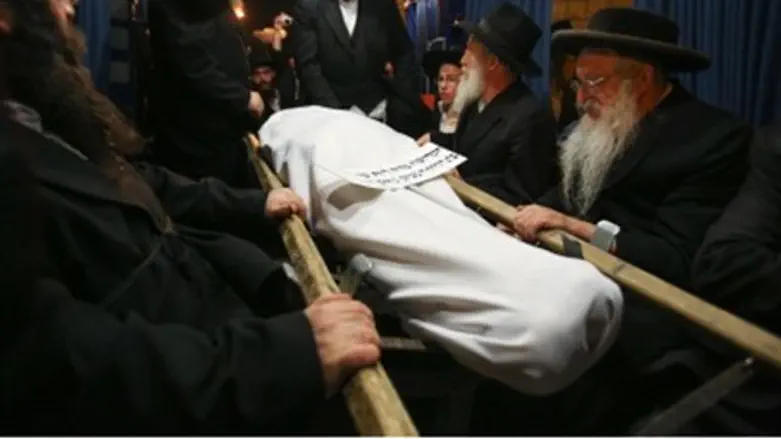 Mirah Sharf's funeral
Israel news photo: Flash 90
The names of the three people who were killed Thursday by a rocket attack in Kiryat Malachi have been published, and one of whom, it was just discovered, was an emissary of Chabad involved in outreach in India, and was in Israel on a short visit in order to give birth and pay respects to the Chabad victims of the Mumbai terror attack in 2008.
Mirah (nee Cohen) Scharf, the 26-year-old victim of today's attack, was a "shlucha (female emissary)" to New Dehli, India, visiting Israel for the memorial service of Gabi and Rivka Holtzberg, the Chabad emissaries who were victims of the Mumbai terror attack. The Hebrew anniversary of their brutal murder is today.
According to the Chabad website, Scharf was also pregnant - she came to Israel in order to give birth, but arrived early to attend the Holtzberg memorial. Chabad members, who have been showing an outpouring of support on Facebook, cite that she was also the mother of three young children.
A second victim, Ahron Smadja, 49, was the father of the 8 month old baby girl who was injured. He, too, has been laid to rest in what was described as a quiet funeral.
"He was married for 20 years and couldn't have children, then he had twin boys nine years ago, and 8 months ago his daughter was born and he was walking around with a smile on his face that he had a daughter after all this years," according toThe Algemeiner.
"He was one of the first Chabad soldiers to join the Israeli Army,"  said the Algemeiner.
The third victim was 22 year old Yitzchak Amsallem.
Israeli Chabad websites Shturem and COL reported that the rocket attack hit the neighborhood of Nachlas Har Chabad, "devastating the entire community as they were unprepared for such an attack. "The shelters in Kiryat Malachi were not readied for the onslaught, and the residents of the building that was hit were running to relative safety under the stairwell of the building, when a missile hit, taking precious lives and injuring the others," writes Shturem.net.
There is no Iron Dome battery protecting Kiryat Malachi, and the victims reportedly did not take shelter in the building's stairwell, as Home Front Command instructions require.