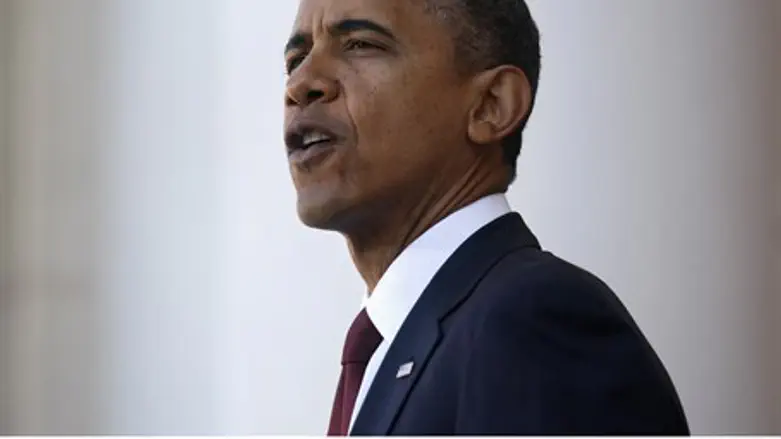 President Barack Obama
Reuters
The Zionist Organization of America (ZOA) has called upon President Barack Obama to condemn the wave of rocket attacks launched from Hamas-controlled Gaza in recent days.
Over the past four days, over 120 rockets and mortars were fired into Israel from Gaza, eight people have been injured and 43 have been treated for shock. Over one million Israelis—around around one-eighth of the population—have been endangered and forced to repeatedly seek safety in bomb shelters. Up to this point, more than 600 missiles have been fired into Israel from Gaza during 2012.
While the United Nations, the European Union and France on Monday condemned the rocket fire, they also urged both parties not to take any steps that would escalate the situation.
"Both sides should do everything to avoid further escalation and must respect their obligations under international humanitarian law to ensure the protection of civilians at all times," said U.N. Secretary-General Ban Ki-Moon.
Prime Minister Binyamin Netanyahu told a group of foreign ambassadors at a meeting in Ashkelon that Israel will take "whatever action is necessary to put a stop to this. This is not merely our right, it's also our duty".
"We do not intend to allow - in any shape or form - the continued harming of the day to day life of our citizens," added Israeli Defense Minister Ehud Barak. "As far as we are concerned, Hamas is responsible for what is happening in the Gaza Strip. Even when other organizations are carrying out [certain attacks], Hamas are not free from responsibility".
ZOA National President Morton A. Klein called on the United States to take action, saying "We are concerned that this heavy barrage of rocket fire on Israel launched by terrorist groups, which are targeting Israeli civilians with a view to inflicting maximum casualties, has been proceeding for four days without response from President Obama."
"President Obama spoke in 2008 during his visit to Sderot and, more recently, during the second presidential debate, of his concern for Israeli civilians being subjected to rocket fire having to scramble without warning into bomb shelters and how he would take firm measures to protect his daughters if they were living in a home subject to this form of terrorist attack," asserted Klein. "That is why it is disappointing, puzzling and concerning that we have not heard President Obama speak out on these attacks and affirm, as he did in 2008, that Israel has a right and duty to defend itself from such assaults. We urge him to do so now."
Prior to the U.S. presidential election, Republicans had been lambasting Obama's treatment of Israel and his failure to visit the Jewish state during his entire term in office.
In what many criticized as an election ploy, Obama appealed to the Jewish constituency by highlighting his visit to the country in 2008 as a presidential candidate, saying he had visited the "border towns of Sderot, which had experienced missiles raining down from Hamas."
"I saw families there who showed me there where missiles had come down near their children's bedrooms," Obama said. "And I was reminded of what that would mean if those were my kids. Which is why as president, we funded an Iron Dome program to stop those missiles.
ZOA President Klein stated that at this critical time a "weak or non-existent presidential response transmits a message that these attacks are insufficient to warrant presidential concern and will be tolerated."
"I cannot believe that that is a message President Obama would wish to convey to the terrorists groups in Gaza," Klein added.