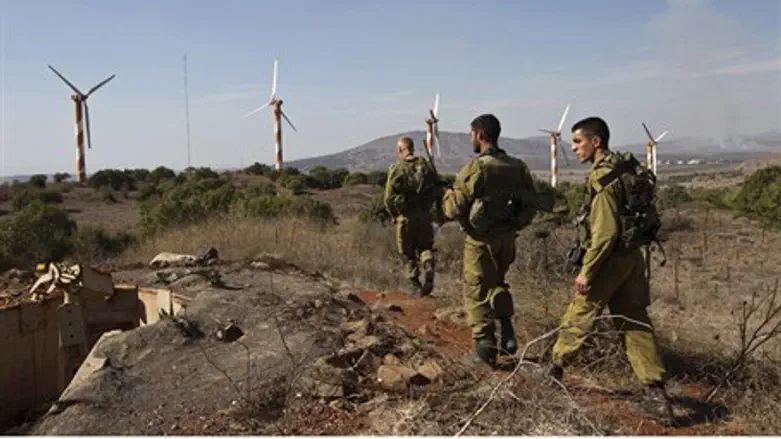 Israeli soldiers walk near Alonei Habashan cl
Reuters
United Nations Secretary-General Ban Ki-moon appealed Sunday to Israel and Syria to ease tensions on the Golan Heights, amid warnings that conflict in Syria could spread into a wider regional conflict.
"The secretary general is deeply concerned by the potential for escalation," said UN spokesman Martin Nesirky.
"He calls for the utmost restraint" and urges both side to uphold the 1974 accord which set up a ceasefire line and demilitarized zone which is patrolled by UN forces.
Syrian Army regulars fired a mortar shell Sunday morning from the direction of Be'er Ajam towards the eastern Golan Heights. The shell exploded in an open area in the Hezka region.
While no physical injuries were reported and officials said they did not believe the shell was directly aimed at Israel, the incident proved to be yet another example of "spillover" from the civil war raging between Syrian Army troops and opposition forces.
Last week, three mortar shells were fired by the Syrian Army into the Golan Heights; an IDF position near the border was hit by stray gunfire; an Israeli military jeep was hit by Syrian gunfire during a routine patrol on the Golan Heights; three Syrian Army tanks entered the demilitarized zone via the village of Bir Ajam, into the area that acts as a buffer between the two countries.
The continued spillover has caused the IDF to change the rules of engagement along the Syrian border and soldiers have been instructed to respond accordingly in the face of lethal and persistent Syrian fire.  The continuing Syrian escalation thus prompted Israel to fire warning shots into the country.
"Syria has been in the midst of a brutal civil war for over a year, and the IDF (military) has been instructed to prevent the battles from spilling over... Additional shelling into Israel from Syria will elicit a tougher response, exacting a higher price from Syria," Israel will take Defense Minister Ehud Barak said in a statement.
Syria and Israel must halt "firing of any kind" across the ceasefire line, added Ban, who has made repeated warnings that Syria's 20-month old conflict could spill over into battles with neighboring Israel, Lebanon and Turkey.
Ban was "concerned" by reports of clashes between President Bashar al-Assad's forces and opposition rebels in the demilitarized zone in the Golan, said the spokesman. No injuries to civilians or UN personnel were
reported, the UN said.
Senior officers in the UN Disengagement Observer Force (UNDOF) have demanded that the Syrian army withdraw from the zone, UN officials said.