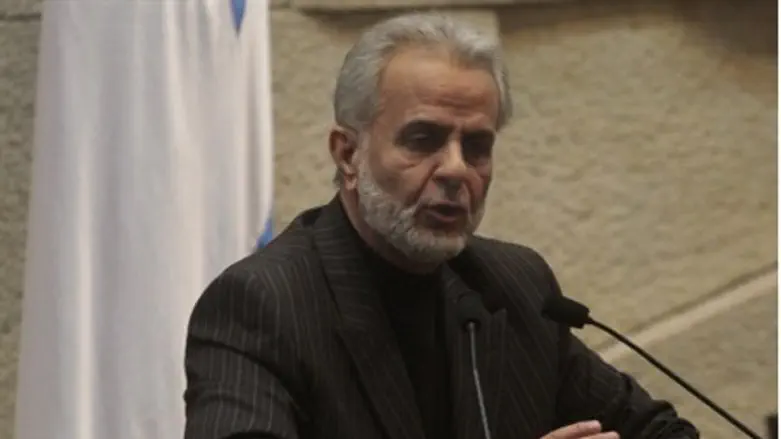 MK Ibrahim Sarsour
Flash 90
Arab MK Ibrahim Sarsour (Ra'am) on Sunday once again spoke out in favor of terrorism and against Israel.
Sarsour condemned what he termed the "recent Israeli escalation against Gaza," while failing to condemn the fact that Gaza-based terrorists had fired over 100 rockets into southern Israel on Saturday and Sunday, forcing a million residents to spend the day in shelters and protected spaces.
He called on the Gaza-based terror organizations not to go along with the Israeli policy which, he claimed, aims at dragging Palestinian Authority Arabs into a new war, especially at a time when the PA is preparing its upcoming statehood bid at the United Nations.
He accused Prime Minister Binyamin Netanyahu of opening new fronts in a deliberate attempt to divert international attention from the issue of the PA's demand for independence to Israel's right "to self-defense against Palestinian rockets."
"Pulling the rug from under the feet of Israeli political and military leadership is the order of the day, and this can only be obtained by stopping the rockets on the basis of an internal Palestinian agreement, first and foremost," he said.
Sarsour added that "if Israel commits to stop the aggression then the Israeli interest has been achieved, and if it does not then the Palestinians will have the right to self-defense as part of a collective decision at the right time and place."
In the past Sarsour has called to establish an Islamic Caliphate centered in Jerusalem and has met with senior Hamas terrorists.
Last week, Sarsour criticized PA Chairman Mahmoud Abbas over his remarks on Israeli television that he had given up on the "right of return".
Sarsour issued a statement in which he said that he "so wants President Mahmoud Abbas not to get in trouble over his latest statements." He also said that Abbas had "made all the possible concessions to Israel" in his remarks.