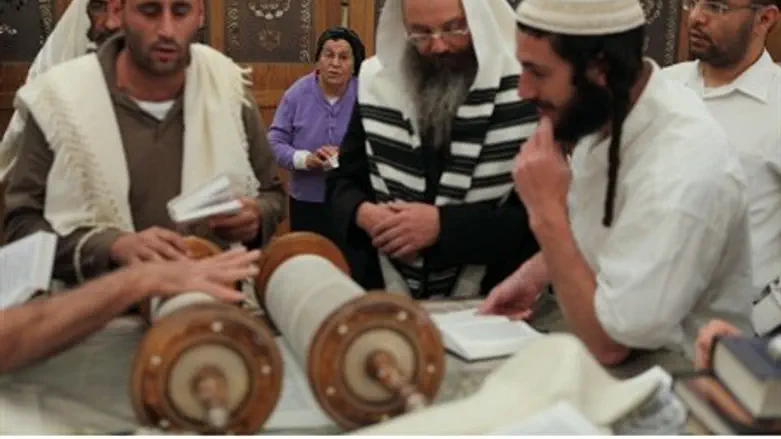 Torah Reading in Patriarchs' Cave in Hevron
Israel news photo: Flash 90
Approximately 15,000 Jews flooded Hevron on the Sabbath, when the Torah reading opens with Avraham's purchase of the Patriarchs Cave.
The army and police deployed extra forces to maintain security against Arab and leftist disturbances.
Residents of Kiryat Arab-Hevron opened their homes to host the visitors for the Sabbath. The crowd was the largest in Hevron since the Sukkot holiday and the "Selichot" prayers during the Ten Days of Repentance between Rosh Hashannah and Yom Kippur, when tens of thousands of Jews arrived day and night from throughout the country.
The number of visitors on "Shabbat Chayei Sarah," describing the death of Avraham's wife and his purchase of the burial cave, increases every year, Hevron spokesman Noam Arnon told Arutz Sheva.
He noted that Knesset Members were more prominent this year, probably due to the upcoming elections in January.
The Torah reading on Shabbat Chayei Sarah relates the negotiations between Avraham and the local Hittite elite, who initially replied to Avraham's request to buy the Patriarchs' Cave by saying it was his for the asking.
Avraham, who understood the local culture and who also wanted to preserve the Cave and the surrounding field as Jewish property, insisted on paying for it.
The response was, "Four hundred pieces of silver – what is that between us?" Although the sum was extremely high, Avraham paid, and the Torah noted, the money was handed over to the "merchant."
The purchase is one of three described in the Bible, the others being the Temple Mount in Jerusalem, purchased by King David, and a field in Shechem, located in central Samaria, purchased by the Patriarch Jacob.
Education Minister Gideon Sa'ar of the Likud party participated in a Likud gathering in Kiryat Arba Saturday night and told Arutz Sheva that he has promoted school trips to Hevron.
"There is no better Sabbath than this, in which we read about the purchase of the burial cave by Avraham, to send a message to the younger generation of the connection between our forefathers and the roots of the Jewish People," he said.
He said he will ask Prime Minister Binyamin Netanyahu to continue to serve as Education Minister in the next government, which polls show Netanyahu will continue to head.