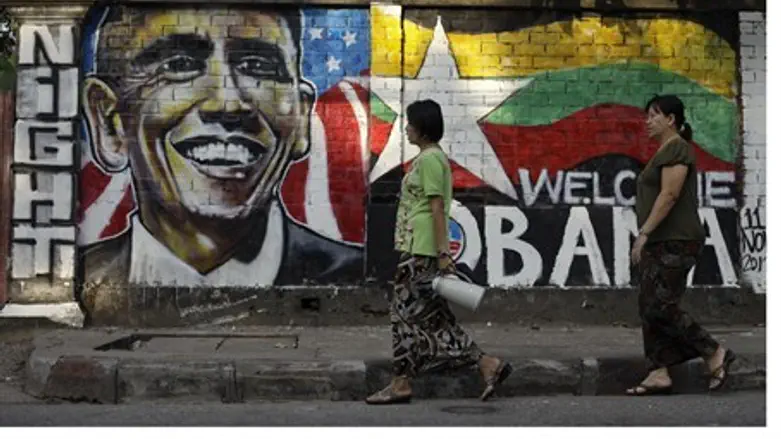 Grafitti welcoming US Pres. Obama to Myanmar
Reuters
A 6.8-magnitude earthquake struck northern Myanmar, formerly known as Burma, on Sunday. At least 12 are dead and a gold mine collapsed, just one week before the scheduled first-time visit of an American president to the southeast Asian nation – U.S. President Barack Obama.
The earthquake was felt as far away as the capital, Naypyitaw, 225 miles (365 kilometers) south of the epicenter. Several windows were shattered in the parliament building there.
The temblor was also felt in the capital Bangkok, in southeast neighboring Thailand. The country is bordered to the west by India, and to its northeast by China.
The epicenter of the temblor, which struck at 7:42 a.m. local time near the Irrawaddy River, was in an underdeveloped area.
The region, known as a mining center for gemstones and minerals, is sparsely inhabited, and local media are reporting casualty figures as they come in.
According to a local official, at least six were killed in Sintku township, with another 11 injured. Many were miners. In addition, two monasteries, several large sculptures, a number of temples and a bridge also collapsed.
Other damage was reported in Mogok, an area containing abandoned ruby mines, east of the epicenter, where centuries-old temples were damaged but no one was injured.
Myanmar is known also as a source country for human trafficking, according to the CIA website, and is the world's third largest producer of illicit opium, with an estimated production of 2009 of 250 metric tons.
The majority of its population is Buddhist (89%), followed by Christians (4%) and Muslims (4%).