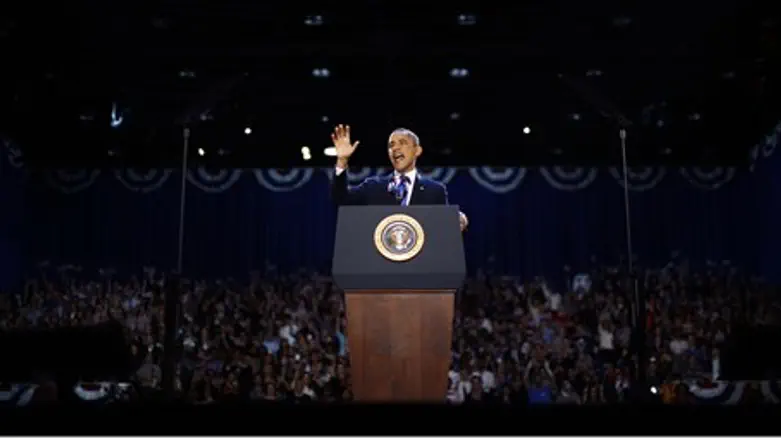 President Obama
Reuters
The Republican Jewish Coalition (RJC) congratulated President Obama on his re-election victory, but called on Americans to "come together to craft real solutions to the very serious problems our country faces today."
In a statement released by Executive Director Matt Brooks, the RJC noted a significant decline in support for Obama among Jewish voters, with exit polls saying that Obama garnered about 69 percent of the Jewish vote, down from an estimated 74 percent to 78 percent in 2008.
"In five of the last six national elections, Republicans have increased their support among Jewish voters and they continue to make inroads in the Jewish community," Brooks said.
"One clear take-away from the outcome of this election is that the Jewish community spoke loudly and clearly regarding their concerns about the policies of the Obama administration," he added.
The RJC had campaigned vigorously to elect Mitt Romney and issued a series of advertisements titled "My Buyer's Remorse", which featured testimonies by individuals who had voted for Obama in 2008, but would not be doing so again in 2012.
Meanwhile, the National Jewish Democratic Council (NJDC) released a statement saying its leadership and staff were "thrilled" at hearing the news of Obama's re-election victory.
"In his first term, President Obama signed historic legislation into law, appointed outstanding Supreme Court justices and reflected Jewish values at every turn -- all while being Israel's most important friend and most persistent advocate in the world," read the statement released by NJDC Chair Marc Stanley and President David A. Harris. "We know that he will continue to build on his outstanding foreign and domestic record in his second term, and that he will continue moving our country forward."
The American Israel Public Affairs Committee (AIPAC) similarly released a statement saying, "President Obama has made it clear during the past four years that he and his administration are strongly committed to solidarity with Israel in confronting the many security challenges that she and our own nation face."
The statement noted that both candidates for president were "firmly supportive of the U.S.-Israel relationship" and that the commitment is reflected in the newly elected Congress.
"The election once again demonstrated that the solidarity between the U.S. and Israel transcends partisan politics," AIPAC said.