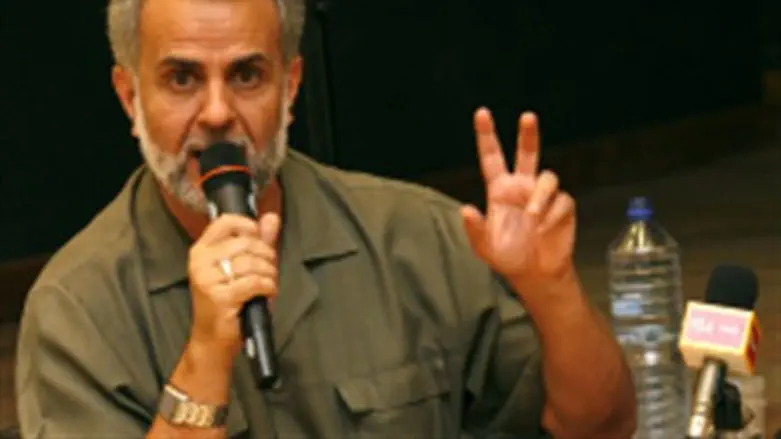 Ibrahim Sarsour
Flash 90
Arab MK Ibrahim Sarsour (Ra'am), who has called to establish an Islamic Caliphate centered in Jerusalem and has met with senior Hamas terrorists, on Sunday directed his criticism at Palestinian Authority Chairman Mahmoud Abbas.
The reason for Sarsour's criticism was the remarks Abbas made in an interview on Channel 2 News on Friday. Abbas hinted that he had given up on the "right of return" when he said that he had no intention of trying to regain his childhood home in the northern town of Tzfat (Safed) in Galilee, which was liberated by Israel in 1948.
Sarsour issued a statement in which he said that he "so wants President Mahmoud Abbas not to get in trouble over his latest statements." He also said that Abbas had "made all the possible concessions to Israel" in his remarks.
MK Sarsour said Abbas's words do not contribute to the interest of national unity among PA Arabs, let alone the interests of the "Palestinian problem," and claimed that they reflect the hope that Abbas plants in the illusion that he can change the positions of the United States, the international community and Israel.
"The Palestinian consensus which rejected the statements made by President Mahmoud Abbas, and especially when it comes to the right of return, and despite his clarifications, should not surprise the President, because he knows well the basic Palestinian positions, which none of the Palestinians will give up, even if there is a disagreement on how to implement them."
Abbas retracted his statements after they sparked huge protests in Gaza. His own spokesman said that the Palestinian Authority certainly has not given up the demand that Israel allow the immigration of several million foreign Arabs who claim Israel is their home.
Abbas then made it clear to the Arab world, through an Egyptian television network, that although he personally would give up living in Tzfat, "the right of return is holy and no one can deny it."
Sarsour advised Abbas to stop making such statements "as there is no hope for Israel or the U.S., at least at the present time," and added that Abbas should "work with his brothers in his homeland, headed by Hamas, on a national basis."