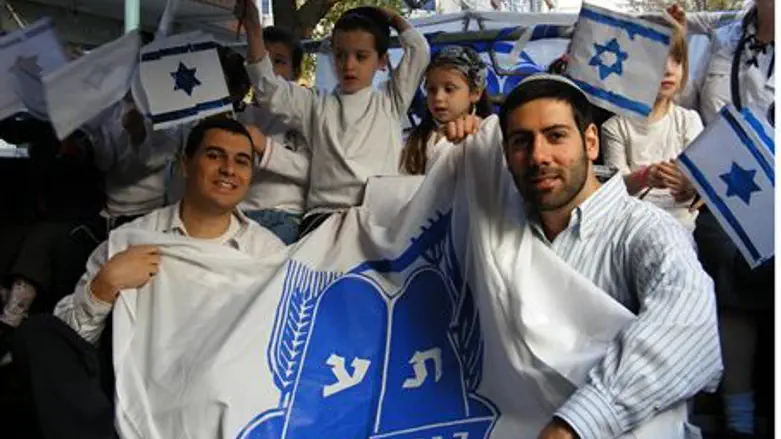 Argentina celebrates Israeli Independence Day
Israel News photo: Bnei Akiva
Representatives of Argentina's Jewish community have asked prosecutors to require that the government report on its meeting with Iran on the 1994 bombing of a Jewish charity, the group's lawyer said, according to AFP.
Argentine and Iranian officials met last week in Switzerland for expert-level talks on the bombing in Buenos Aires, which killed 85 and wounded 300 in the worst attack of its kind in the country's history.
Since 2006, Argentine courts have demanded the extradition of eight Iranians, including current Defense Minister Ahmad Vahidi and former president Akbar Hashemi Rafsanjani, to face charges over the attack.
"We have the right as plaintiffs and in some cases families of victims to know what the government is negotiating with Iran," lawyer Miguel Bronfman, who represents the Delegation of Argentine Jewish Associations and the AMIA Jewish center, told La Nacion newspaper.
The request, filed Friday with the state prosecutor in the case, Alberto Nisman, asks the foreign ministry to report, "even in a restricted format if absolutely necessary," on the negotiations.
Representatives from both nations will meet again during the last week of November to continue negotiations that began at the United Nations in Geneva last month. A venue for the new round of talks has yet to be set. Argentine Foreign Minister Hector Timerman said the first round achieved "positive results.
In the July 18, 1994 attack, a van loaded with explosives detonated outside the Israeli Argentine Mutual Aid Association, leveling the seven-story building housing it.
The bombing, the deadliest attack in Argentina's history, came two years after another attack on the Israeli embassy in Buenos Aires that left 29 dead and 200 wounded. Iran has always denied any involvement in the attacks.
There are around 300,000 Jews living in Argentina, making it the largest Jewish community in Latin America.