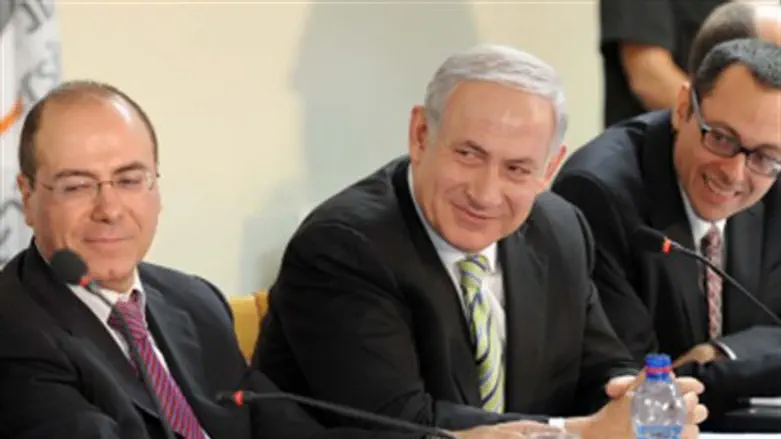 Netanyahu at Cabinet meeting
Israel news photo: Flash 90
The Cabinet unanimously decided Sunday to implement the recommendations of the inter-ministerial team on setting the government's long-term socio-economic strategy.
According to the decision, a ministerial team on economic strategy will be formed, to be chaired by Prime Minister Binyamin Netanyahu. Professional teams will be established at all relevant government ministries in order to integrate the planning and implementation of the government's long-term reforms.
The inter-ministerial team, which was chaired by National Economic Council Director Prof. Eugene Kandel and Finance Ministry Director-General Doron Cohen, was appointed by Prime Minister Netanyahu and Finance Minister Yuval Steinitz approximately two years ago in order to develop a process to facilitate long-term strategic thinking and the implementation of reforms in the socio-economic sphere. The team also included Prime Minister's Office Director-General Harel Locker, Bank of Israel Deputy Governor Dr. Karnit Flug and Finance Ministry Budget Director Gal Hershkovitz.
The team focused on setting a broad government strategy and on the implementation of long-term reforms. The need for this stems from the electoral system, limited government terms in office and the lack of sufficient coordination between the various government ministries. This harms the ability of the State of Israel to prepare for important challenges – such as those regarding energy, natural resources, demographics, etc. – in a timely manner.
Prime Minister Netanyahu stressed the importance of the decision and said, "We must think ahead in order to meet the strategic needs of the State. Despite the evident difficulty, in the last four years we have started more than a few reforms, the goal of which is to meet the long-term strategic challenges of the State of Israel in the socio-economic field – such as building the separation fence, increasing competitiveness in the economy, reforming the gas sector, the Sheshinski Committee and others. We will continue to carry out these reforms and others in the fields of housing and lowering the cost of living."