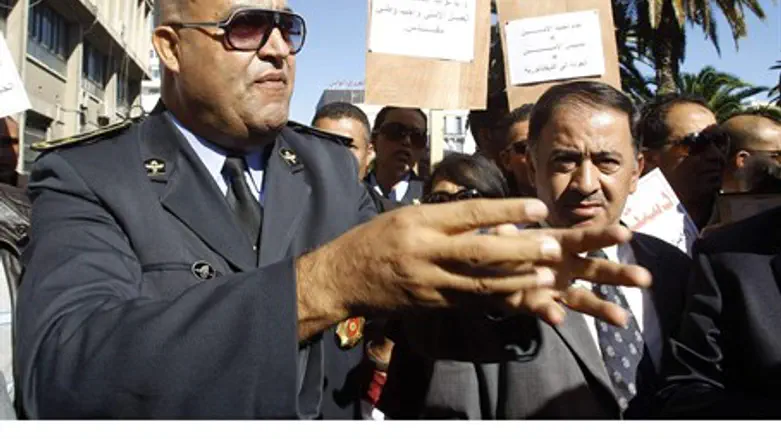 Security and police officials at Tunisia's In
Reuters
A gang of Libyans and a Tunisian police officer planned to kidnap a young Jew as a hostage for ransom.
According to the report, a senior Tunisian police officer who declined to be named told the AFP news agency that five suspects were arrested last Thursday in connection with the incident. The gang was picked up based on information extracted from a confession by the officer who was recruited by the four Libyans in the group.
Interior Ministry spokesman Khaled Tarrouche later added that the five suspects were planning to kidnap "one or two Jews from well-off families to obtain a ransom." Tarrouche did not release the identities of the suspects.
All are being held in a jail near the Tunisian capital of Tunis, he said. Tarrouche claimed there was no religious motivation for the attempted abduction.
At least 200 Jews live in the southern Tunisian town of Zarzis, where the five suspects were caught. The entire Jewish population of Tunisian totals about 1,500, including some living in the capital, and most of whom live on the northern island of Djerba. An attack on a synagogue in Djerba by the Al Qaeda terrorist organization left 21 people dead in 2001.
Also last week, Tunisian police officers and security personnel were wrestling with ongoing violent demonstrations by mobs of hardline Salafi protesters in the capital. A second man died Wednesday of wounds suffered when Tunisian police opened fire on the protesters, the state news agency reported.
A security source said late Tuesday that one person was killed in clashes following an assault by hundreds of Salafis on the police station the same day to protest at the arrest of a Muslim extremist accused of attacking a police chief with a knife.
Protesters were saving signs that read, "No to using the security institution as a political tool."