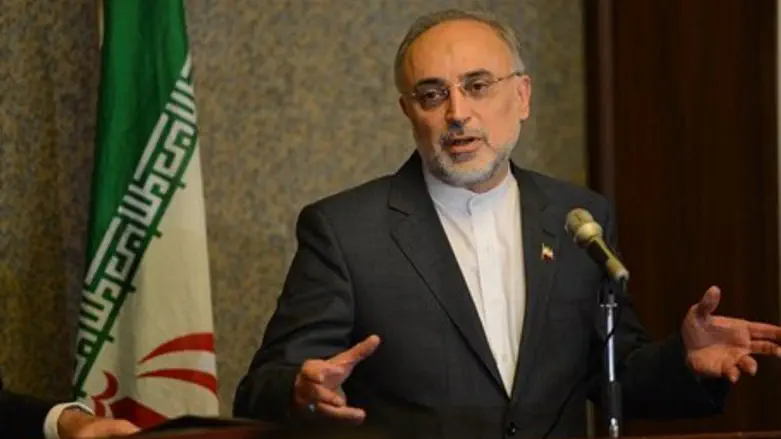 Iranian Foreign Minister Ali Akbar Salehi
AFP/File
Iran on Saturday fingered Israel as being behind the car bombing in Beirut a few weeks ago, which killed the intelligence chief of Lebanon's Internal Security Forces, General Wissam al-Hassan.
According to a report in Naharnet, Iranian Foreign Minister Ali Akbar Salehi said that Israel is the "primary beneficiary" from the al-Hassan's assassination. Al-Hassan was a prominent figure opposed to Syrian President Bashar al-Assad and his involvement in Lebanese affairs. The assassination has blamed on Assad and his Lebanon proxy Hizbullah.
"What will Syria benefit from killing him?" the report quoted Salehi as having said in an interview in the Kuwaiti al-Rai newspaper and the Qatari al-Watan newspaper.
Salehi claimed that al-Hassan uncovered 30 Israeli spy networks in Lebanon, "which indicates that Israel is solely the number one beneficiary from his assassination."
He noted, according to Naharnet, that although his country "maintains special ties with Hizbullah and AMAL it also has special relations with all of the parties in Lebanon."
"We might have different points of view over some issues, however, we don't meddle in the Lebanese affairs," Salehi said.
In the interview, Salehi was also asked about Hizbullah's Iranian-made drone that penetrated Israel on October 6. He said that "it's not a secret that Iran has obtained pilotless aircrafts that are more sophisticated than this one."
"We are one of the few countries that has this technology and our drones can reach a range up to 2,000 kilometers," Salehi claimed.
Israel's air force shot down the unarmed drone over the Negev desert after it entered the country's airspace from the Mediterranean Sea.
Hizbullah chief Hassan Nasrallah later boasted that his group sent the unmanned drone over Israel. The group's Al-Manartelevision networkalso broadcast a video which the network claimed simulates the route made by the unmanned drone.
Iranian Defense Minister Brigadier General Ahmad Vahidi said last week that the drone was not Iran's most advanced unmanned aerial vehicle.
"The Islamic Republic of Iran currently has unmanned aerial vehicles with a technology by far more advanced than [that of] the drone recently flown by the resistance movement of Hizbullah in the Zionist regime's airspace," Vahidi said, according to a report in PressTV.
The technology of Hizbullah's Iranian-made drone was not definitely "Iran's latest technology," he said.