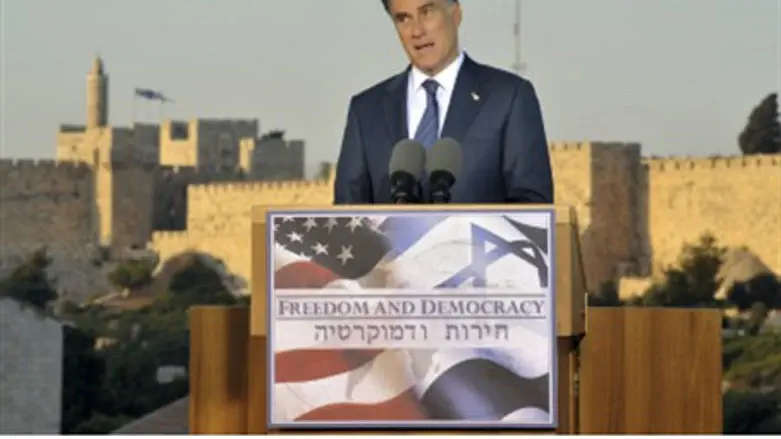 Mitt Romney in Jerusalem
Israel news photo: Flash 90
iVoteIsrael, the leading organization facilitating the ability of Americans in Israel to vote in the US elections, has successfully completed its campaign to make voting from Israel more accessible to as many Americans in Israel as possible.
"iVoteIsrael is proud to announce that 80,000 Americans from Israel have already submitted their ballots to their local county board of elections in any of the 49 states where we successfully registered voters from," commented Elie Pieprz, national director of iVoteIsrael.   "This represents an unprecedented increase in voter participation from the 20,000 or so that voted in 2008."
Internationally, American expats typically have a 5% turnout rate. If those trends continue, the American vote from Israel will represent 20-25% of the total expat community from around the world, further solidifying proof of the unique nature of the relationship between the U.S. and Israel, which is not limited to the diplomatic and strategic levels but also exists at the grassroots and electoral level. 
"This connection demonstrates the breadth of the unique relationship between the two countries, and iVoteIsrael is proud to have played a role in illustrating this connection to the public," commented Pieprz.
iVoteIsrael also unveiled the first authoritative exit polls of actual voters from Israel.  The poll surveyed 1,572 voters and found that:
·         President        85% voted for Romney and 14% voted Obama
·         Congress        62% voted GOP and 28% voted Democratic
·         61% of voters from Israel cited Jerusalem and "peace process" negotiations as a primary motivating factor for voting.
Swing state voters from Israel numbered roughly as follows:
·         Florida          7500
·         Ohio             3500
·         Pennsylvania          3500
IVoteIsrael calls itself "a diverse group of Americans who currently reside in Israel, from all over Israel, and all over the US. "
"We are deeply concerned about the safety, security and future of Israel," the group says. "Most importantly, we want to see a president in the White House who will support and stand by the American citizens living in Israel in absolute commitment to their safety, security and right to self-defense.