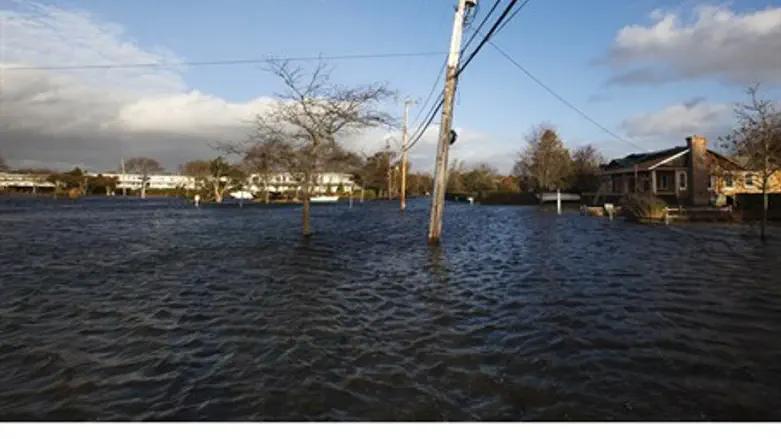 Flooding was system wide
Reuters
Hurricane Sandy has totally paralyzed the underground system used by New Yorkers for more than a century to travel the city.
New York City's subway system was voluntarily shut down as a precaution – one well taken, in retrospect – on Saturday afternoon. But the suspension of service, intended to preserve equipment, was expected to last only until the storm had passed.
Instead, the Metropolitan Transportation Authority (MTA) was forced to announce that pumping water out of flooded tunnels could take as long as four days – or more.
Actually, it's more likely the trains won't be running for at least a week – possibly longer, sources said.
The Army Corps of Engineers has sent a team to clear the system – the first time ever that the city ever made such a request.
Once the water is removed, engineers must then examine the equipment to see how much corrosion damage was wrought by the salt water that soaked the switches, signals, electrical wires and stations.
More than 468 stations and 600 miles of track have to be minutely examined in four of the city's five boroughs. Each has to be out of the water before it is touched.
Seven tunnels under the East River are badly flooded, most connecting the boroughs of Manhattan with Brooklyn. One tunnel – the South Ferry station at Manhattan's southern end – was flooded entirely from 'track to the ceiling' in the unprecedented lashing what was the worst hurricane ever to hit the city.
"The New York City subway system is 108 years old," said MTA chairman and CEO Joseph J. Lhota. "It has never faced a disaster as devastating as what we experienced last night."
Other commuter train lines leading out of the city are also affected.
Fallen trees and other objects – including a 40-foot boat – have landed on or near tracks, suspending service on the Metro-North and Long Island Railroads, as well as on the PATH trains. New Jersey Transit operations were suspended as well.
One of the biggest questions is how to pay for the extensive damage caused by Hurricane Sandy along the East Coast, and who will cover the costs in repairs to municipal infrastructure, subway tunnels, train tracks, electrical transformers, coastal boardwalks and piers.