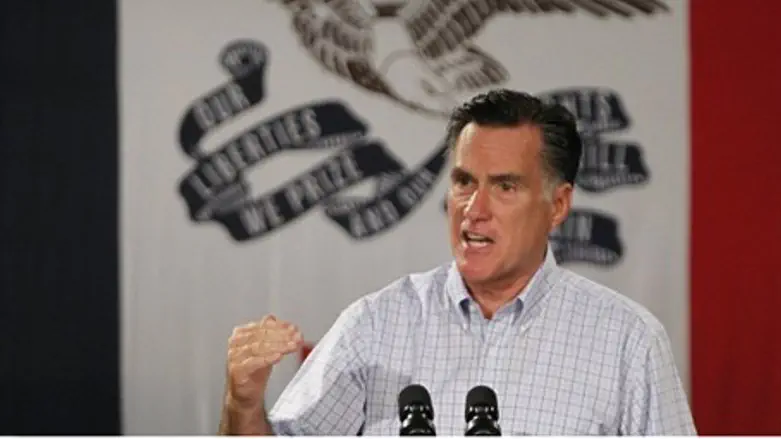 Mitt Romney
Israel news photo: Flash 90
The US presidential race may have slowed for Hurricane Sandy, but both sides frantically worked the Internet instead to make up for lost time.
The National Jewish Democratic Council (NJDC) released to the media a link on Wednesday to a micro site claiming that GOP contender Mitt Romney has ties to Iran.
The site, titled simply "Mitt Romney and Iran," allegedly shows "the troublesome economic ties" Romney has with the Islamic Republic.
"While Romney ties to talk tough on Iran, he allowed his personal investments and Massachusetts' pension fund to directly benefit from business with Iran," claims the release.
However, a member of the team that wrote the 2004 Divest Terror Project report cited by Romney's accusers said the charges were unfair.
Romney had already ended his tenure as governor of Massachusetts by the time divestment had really gotten underway, said Christopher Holton, Vice President for Outreach for the Center for Security Policy. The first initiatives for pension systems to divest from Iran were passed in Florida and California, he said – and even that did not happen until well into 2007.
Romney's term as governor ended in 2007.
Holton added in an interview published last month in Times of Israel that at the time, Democratic State Senator Barack Obama also did not sponsor divestment legislation in Illinois. Once out of office, Romney attended the Herzliya Conference, where he heard about targeted divestment of companies doing business with Iran. The former governor then contacted the Massachusetts state treasurer, he said, and governors of neighboring states to set up a meeting with senior Israeli officials in Boston at the time to further discuss the issue. 
"I would also remind everyone out there that we've got a lot more states still investing in foreign companies doing business with Iran, providing corporate life support to the ayatollahs," Holton added.