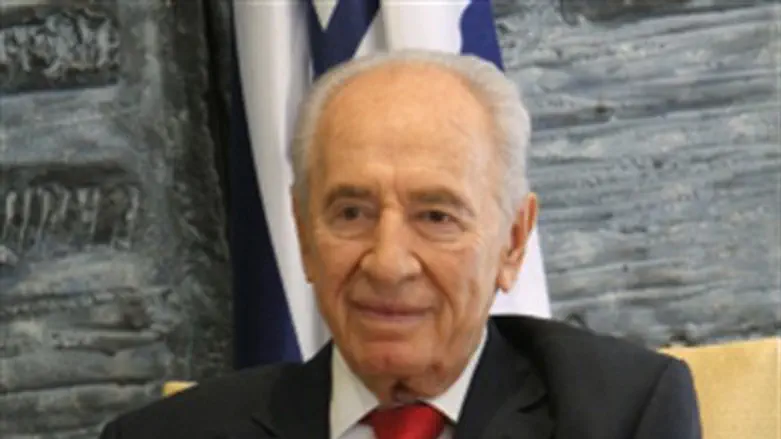 President Shimon Peres
Israel news photo: Flash 90
President Shimon Peres has refused to end his term early and run in the next Knesset elections, despite pressure on him to do so, Channel 2 News reported on Monday.
According to the report, 89-year-old Peres recently held a series of meetings with people such as former Prime Minister Ehud Olmert, former Kadima chairwoman Tzipi Livni, heads of political parties, former chiefs of staff and other politicians, all of whom encouraged Peres to run.
Asked whether Peres intends to declare he will not run in the elections for the 19th Knesset, Peres' office told Channel 2 said that he intends to continue to fulfill his presidential duties as usual.
The same response was given when asked whether Peres will continue as president until the end of his term.
It has been suggested in previous weeks that Peres might be the only candidate who could beat Prime Minister Binyamin Netanyahu in the January elections, especially in the wake of the unity between the Likud and Yisrael Beytenu parties.
Peres' term as president does not end until 2014 and he will be 91 years old at that time. Most of Israel's presidents chose not to return to the Knesset after their term in office ended, the exception being the fifth president, Yitzchak Navon. Navon returned to the Knesset after his presidency to serve as Minister of Education and Culture from 1984 to 1990.
Peres' last role before becoming president was Vice Prime Minister and Minister for the Development of the Negev, Galilee and Regional Economy, during Olmert's government. He moved to Kadima after years in the Labor party in 2005, when he lost the race for the party's leadership to Amir Peretz.
The interest in having Peres run for the premiership again may be a reflection of the desperation among Israel's center-left to find a leader to unite the parties and challenge Netanyahu.
There have been growing calls for Israel's center-left parties to unite and present an alternative to the current government, but the various parties in this bloc – Kadima, Yesh Atid and Labor – do not agree on much, let alone who could lead such a bloc.
On Friday, former MK Haim Ramon, one of the founders of Kadima, called for such unity, claiming that the union in the right means the Likud will become "an extreme right-wing government with hareidim and settlers."
Some have suggested that only Olmert's return to the political fold can save the whole bloc, but Olmert may ultimately choose not to return given his legal issues.
In any case, most polls have shown that Olmert's return will not ensure the center-left a majority that will allow it to create a coalition, and that the Likud is the most likely candidate to win the elections.