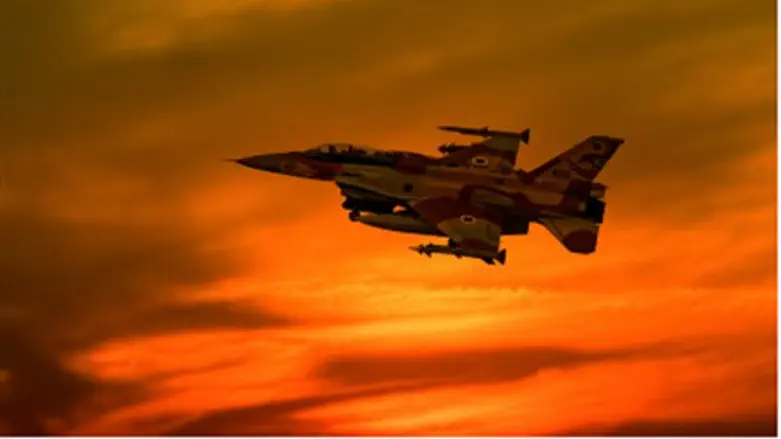 F-16i takes off at sunset
Israel news photo: Flash 90
The Israeli Air Force and the Greek Air Force recently concluded a two-day joint exercise on Greek soil, Channel 2 News reported on Monday.
According to the report, the Greek Air Force said that, as part of the exercise, F16i fighter pilots from both armies practiced dogfights, bomb raids and long term aerial refueling.
As Israel's relations with Turkey cooled over the past few years – its relationship with Greece, including security cooperation, has warmed up. In July, the Commander of the Greek Navy, Vice Admiral Kosmas Christidis, made his first visit to Israel.
Israeli, Greek and American aircraft held a joint drill in April of this year, reportedly in preparation for a possible war over Israel's huge off-shore gas discoveries. 
Last year, Defense Minister Ehud Barak signed a security cooperation agreement with the Greek Defense Minister.
The joint Israel-Greek exercise took place as Austere Challenge 12, the IDF's joint exercise with the U.S. Army, got underway. Gen. Martin Dempsey, chairman of the U.S. Joint Chiefs of Staff, arrived in Israel on Sunday to observe the drill.
Dempsey met with Barak soon after his arrival. Following the meeting, Barak remarked that "the security relationship between the U.S. and Israel is deeper and stronger than it has been in recent years."
On Monday, Dempsey met with President Shimon Peres, in which both Peres and Dempsey agreed that the good relations between Israel and the U.S. would discourage Israel's enemies from attacking.
The two discussed a variety of topics, including the Iranian nuclear threat, the strengthening of strategic relations between the two countries and developments in the region. IDF Chief of Staff Lt.-Gen. Benny Gantz also took part in the meeting.