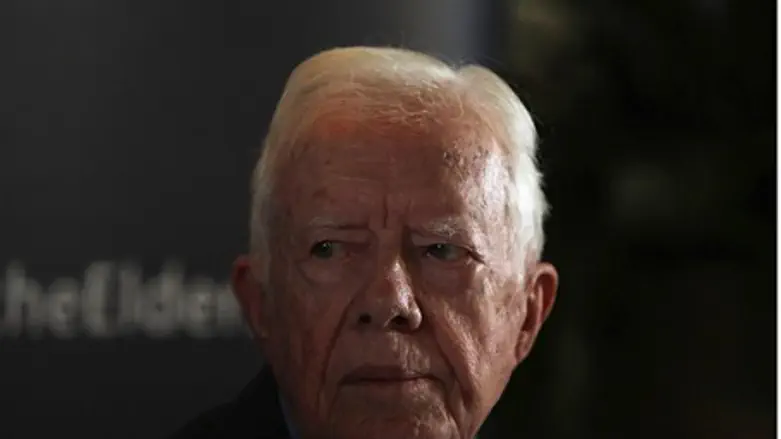 Former US Pres Jimmy Carter
Reuters
Former U.S. President Jimmy Carter condemned Israel on Monday, saying the prospects for peace between Israel and the Palestinian Authority are fading into a crisis.
Carter told a news conference in Jerusalem on Monday said the Israeli-PA peace process has reached a crisis point and that Prime Minister Benjamin Netanyahu's government was not interested in pursuing a two-state solution. 
Carter arrived here this week with other members of "The Elders" –  group of former world leaders who are in the region to visit Jerusalem, Judea, Samaria and Egypt. He claimed that continued construction in Jewish communities in Judea, Samaria and areas of Jerusalem restored to the capital during the 1967 Six Day War is making the prospect of peace less and less likely.
The former president said the situation has reached a "crisis stage," adding that Washington has "zero" influence to resolve the decades-long conflict. Carter also said the ability of the U.S. to persuade Israel to change its policies had dropped to its lowest level in 45 years. Nor was the one-term Democratic president optimistic that the United States could "reassert its influence." 
Carter expressed pessimism about the future of any final status agreement between Israel and the Palestinian Authority while Netanyahu is in office. He made it clear that he believes that Israel's prime minister has given up on the idea of a two-state solution.
"The policy of promoting a two-state solution seems to be abandoned now and we are deeply concerned about this move towards this catastrophic so-called one-state choice... this is a major concern," Carter said. "All indications to us is that this two-state solution has basically been abandoned and we've had a moving forward towards a 'greater Israel' which I think is contrary to the two-state solution concept," he said.
Netanyahu has consistently expressed willingness to negotiate a final status agreement with the Palestinian Authority, and to meet with PA Chairman Mahmoud Abbas for direct talks without preconditions.
The Palestinian Authority, however, has been unwilling to negotiate any final status agreement directly with Israel. Nor is it willing accept any proposal for a two-state solution that does not include any part of Israel's capital, Jerusalem, to be handed over to the PA for its own use as a new capital.
Moreover, the PA itself has been unable to unite its own factions into one cohesive entity: the Hamas terrorist organization seized the Gaza region and ousted the ruling Fatah faction in a bloody coup more than five years ago, effectively severing it from the rest of the PA. Gaza has since remained under the iron fist of the terrorist group.
The PA-controlled areas of Judea and and Samaria are all that remain of the Palestinian Authority, governed by PA Chairman and Fatah leader Mahmoud Abbas, from his headquarters, the Muqata, in the PA's capital city of Ramallah, in Samaria.