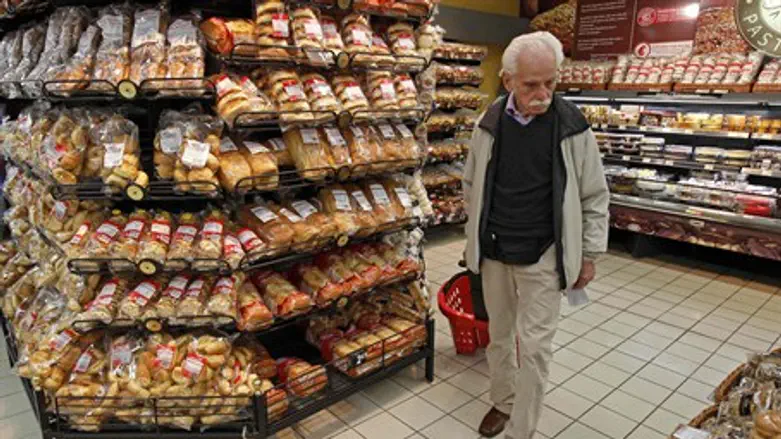 New proposals aim to rein in food prices
Reuters
In an effort to reduce food prices in Israel, the Cabinet approved Sunday a list of proposals brought by the Kedmi committee appointed to recommend changes in the way food is bought and sold in the country. . 
The committee, headed by Industry, Trade, and Labor Ministry Director-General Sharon Kedmi, was responsible for examining prices and the level of competition in the Israeli market and found that the market is centralized, uncompetitive and favors major retailers over consumers. 
Recommendations that passed include banning major producers from buying shelf space at supermarkets and promoting competition by not allowing wholesalers to dictate from whom retailers can buy. 
Another recommendation that passed aims to promote competition among retailers by enforcing anti-trust laws, prohibiting retailers from attaining more than a 50% market share in one area and forcing the transfer of ownership if a chain has at least three stores in one area. 
Defending the need to pass such proposals, Kedmi said, "In the Israeli food market there are failures that have led to unfair higher prices over the years. In order to reduce the financial impact on the shopping cart of the Israeli family, we've suggested a series of steps. I believe that the swift implementation of these suggestions will increase competition…while maintaining the balance required for the existence of a free market."
The presentation followed a number of recent announcements by food manufacturers, including the major manufacturer Osem, that they would be raising prices in the near future, even though prices of many foods in Israel are already significantly higher than the identical foods in other countries. The large chains and manufacturers were accused by the social protest movement of raising prices in tandem.
Not all were thrilled with the new proposals, suggesting more needs to be done in order to rein in food prices. Chairman Uri Ariel (Ichud Leumi) of the Knesset State Control Committee criticized the cabinet, saying, "The government of Israel threw the last state comptroller's report into the garbage. Once again [Prime Minister Binyamin] Netanyahu is doing half a job and supporting the big firms instead of opening up the market to real competition."
Ariel called the cabinet's decisions "void of content which don't prevent the rise of food prices, especially milk, and increase the burden on the general public." Netanyahu had said, "We are bringing in competition on a major scale and with daring measures." He also said, "We will increase competition and reduce the power of cartels and monopolies in order to leave consumers with more money in their pockets."