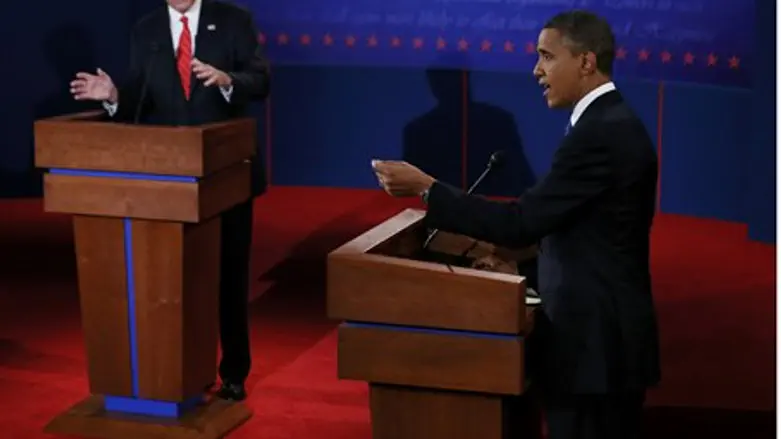 presidential debate
Reuters
The Obama campaign and the Romney campaign have both voiced concern that Candy Crowley, moderator of the second presidential debate, doesn't plan on abiding by the set terms during Tuesday night's showdown.
Lawyers for the two campaigns have written to the Commission on Presidential Debates questioning whether Crowley intends to take a more active role during the debate than the campaigns agreed to, TIME reported.
Crowley, chief political correspondent for CNN, has recently suggested that she plans to aggressively grill the candidates during the town-hall style debate at Hofstra University in New York.
"Once the table is kind of set by the town-hall questioner, there is then time for me to say, 'Hey, wait a second, what about X, Y, Z?' " Crowley said last week.
That comment elicited concern from top legal counsels of both campaigns, who sent the letter to the commission, saying that Crowley's comments, among other she has made in the past, seem to be in direct conflict with the previously agreed upon terms of the debate.
The debate commission responded to the letter by saying it would talk with Crowley and "reconfirm her function," according to Time.
A spokeswoman for Obama's campaign avoided questions on whether the campaign had requested that Crowley refrain from asking follow-up questions. 
"I'm not going to get into the specifics of the negotiations," Obama campaign spokeswoman Jen Psaki told reporters. 
The campaigns said they are concerned that Crowley will do more than just push the candidates to answer the questions posed to them by the audience, which is the role prescribed in the pre-debate agreement that was signed by both campaigns. 
The document states that, "In managing the two-minute comment periods, the moderator will not rephrase the question or open a new topic … The moderator will not ask follow-up questions or comment on either the questions asked by the audience or the answers of the candidates during the debate or otherwise intervene in the debate except to acknowledge the questioners from the audience or enforce the time limits, and invite candidate comments during the two-minute response period."
Crowley was not party to the agreement reached by the campaigns.
According to Time, sources say both campaigns are preparing their candidates for the debate under the assumption that Crowley might play a bigger role than previously intended.
They also hope that by publicizing the expectations for the moderator's role in the town hall debate, Crowley will be less likely to overstep. One key source expressed confidence that, despite Crowley's remarks on CNN, the moderator would perform on Tuesday night according to the rules agreed to by the two campaigns, TIME reported.