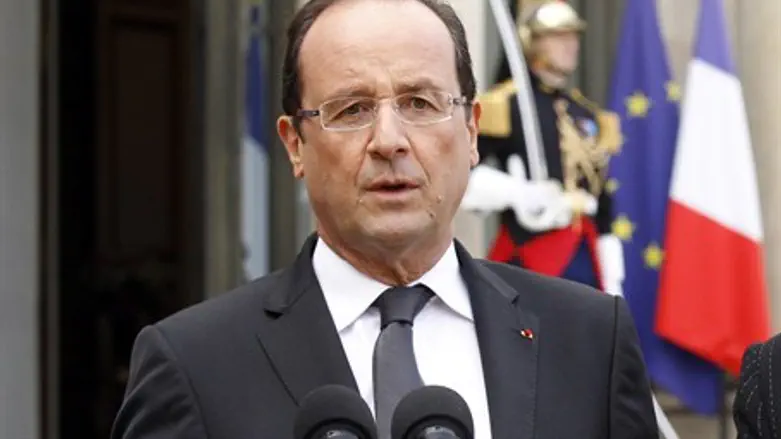 France's President Hollande
Reuters
Jewish organizations in France and other anti-racist groups have expressed outrage over a wave of anti-Semitic messages that have been sweeping through Twitter.
The hashtag #unbonjuif, which in English literally means "a good Jew," has been one of the top trending words on French language tweets in recent days and has led thousands of Twitter users to enter what the French daily Le Monde termed "a competition of anti-Semitic jokes."
One user posted a picture of an emaciated Jewish woman in a Nazi concentration camp as the interpretation of "a good Jew," while others tweeted that "a good Jew is a dead Jew."
Anti-racist groups MRAP and SOS Racisme joined the CRIF, the umbrella group representing French Jewish communities, in denouncing the hateful messages and vowing to sue those sending anti-Semitic tweets.
MRAP said in a statement that Twitter should "take the appropriate measures" to end what it called a "flood of anti-Semitism" and said it was proposing to meet with executives from the firm, Agence France-Presse (AFP) reported.
French authorities remain on alert after a sweep left one man dead and several others in detention for allegedly being involved in a series of anti-Semitic attacks, including the bombing a kosher supermarket in Sarcelles, near Paris, last month.
President Francois Hollande vowed to increase security measures for the Jewish community in France, the largest in Europe.
"I have reaffirmed that the state will not compromise in fighting racism and anti-Semitism. Nothing must be tolerated," Hollande said.
France's SPCJ Jewish security watchdog said last week that anti-Semitic acts surged by 45 percent in the first eight months of this year and were given new impetus by the deadly attacks in March by Islamic terrorist Mohamed Merah, AFP reported.
Merah went on a shooting rampage in and around the city of Toulouse, killing a rabbi, three Jewish children and three French paratroopers before being shot dead in a police siege.