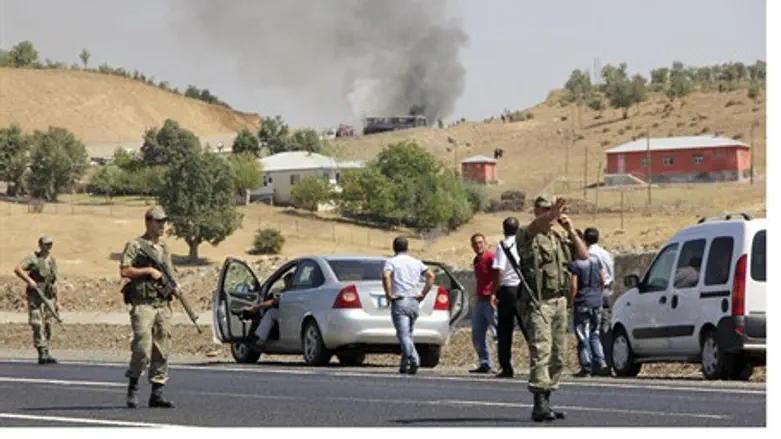 Turkish soldiers secure road from PKK
Reuters
A Turkish newspaper reported Wednesday the Iranian branch of the Kurdistan Workers' Party terror group has struck a deal with Tehran to fight Turkey. The report indicates a rapidly-developing trend towards a broad unity of Kurds in a pact with Iran against its western neighbor, furthering the chances of a regional war.
The news was revealed in a confession that came from a PKK (Turkish Kurdistan Workers' Party) terrorist who allegedly surrendered to the Turkish Armed Forces (TSK), Today's Zaman reported, quoting the Sabah daily newspaper.
According to the report, the deal brokered between the Iranian wing of the PKK, known as the Party for a Free Life in Kurdistan (PJAK) and the Iranian government will allow PJAK to operate along the Turkish border unmolested by the Tehran government.
The report also alleged the PKK was responsible for ordering recent deadly attacks on the Turkish-Syrian border, with some 700 PKK operatives sent to help Syrian Kurdish terrorists.
In addition, several female PKK terrorists surrendered to Turkish soldiers. The women claimed their surrender came after discovering that despite the very difficult conditions under which average PKK operatives live in rural Turkey, their senior commanders enjoy a luxurious existence in the group's Kandil Mountain headquarters in northern Iraq. 
The Iranian Kurdish-Tehran government deal has led to the Turkish PKK's acquisition from Iran of Russian-made heavy weapons, according to the source.
The PKK also uses new recruits from among the youth to carry out attacks against the Turkish government, and then quietly murders the young operatives, the source reported. The deaths, which anger their families, are then used to turn entire clans against the Turkish government, he said.
PKK terrorists carried out attacks in eastern Turkey last month, firing rockets at an army convoy that killed seven soldiers and wounded more than 60, security sources said. The convoy sustained a direct hit by a rocket as it was traveling between the provinces of Bingol and Mus.