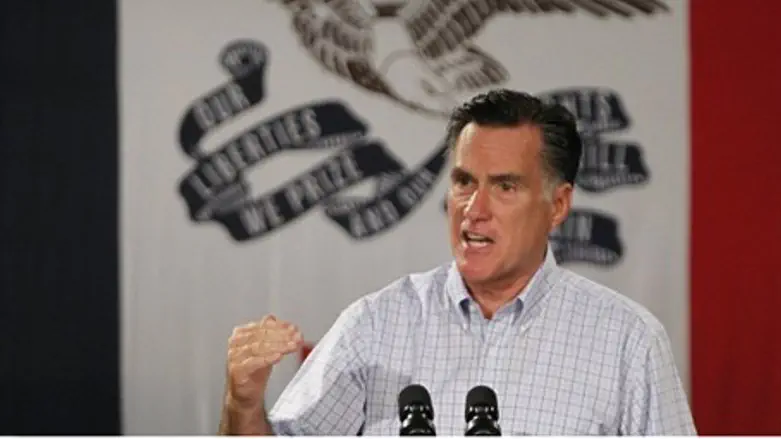 Mitt Romney
Israel news photo: Flash 90
Republican presidential candidate Mitt Romney said Monday that U.S. President Barack H. Obama had damaged Israel's security standing, and had discredited the U.S. as a power in the Middle East. In an op-ed piece in the Wall Street Journal, Romney castigated Obama for his failed policies, and promised that he could do better.
In the article, titled "A New Course for the Middle East," Romney says that despite his early claims that he would enhance the relationship between the U.S. and Israel, Obama has not missed any chances to damage that relationship. Obama, the article said, had "downgraded Israel from being our 'closest ally' in the Middle East to being only 'one of our closest allies.'" That was a clear message to Israel – and its enemies – Romney wrote, showing that Obama was willing to sacrifice Israel if it was required.
Beyond that, he had dismissed Israel's concerns about a nuclear Iran as "noise" to be "blocked out." And most recently, "he declined to meet with Prime Minister [Binyamin] Netanyahu," even though, as it turned out, there was nothing pressing on his agenda that would have prohibited such a meeting.
Obama had also ruined America's ability to act in the Middle East, the article said. "By failing to maintain the elements of our influence and by stepping away from our allies, President Obama has heightened the prospect of conflict and instability," Romney wrote. Obama, he said, "seems to be at the mercy of events rather than shaping them," and "he does not understand that an American policy that lacks resolve can provoke aggression and encourage disorder." The solution, Romney wrote, was to chart a new course in the Middle East, one that would "set a new strategy" that would allow the U.S. to lead, instead of be led.