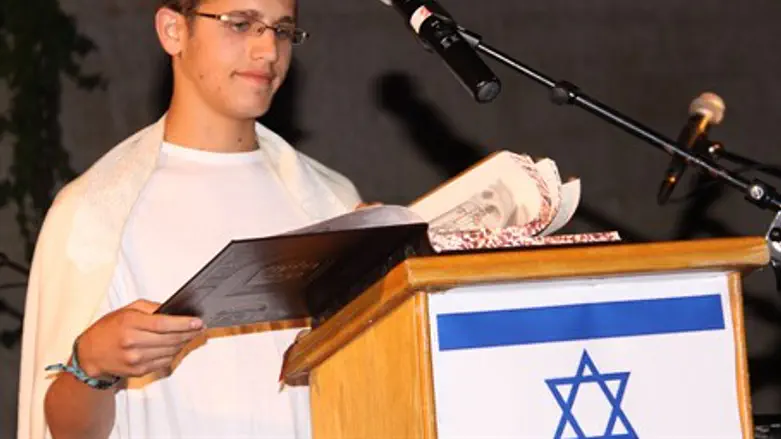 Modi'in High School Siyum Hashas
Matan Kintzlinger
The staff of the Lapid Bnei Akiva Yeshiva High School in Modi'in decided to initiate a unique learning program this summer - the students were given the task to complete a cycle of Daf Yomi Talmud study during their summer vacation.
Yeshiva head Rabbi Shmuel Rosenblum encouraged the project, which kept the students connected to the world of Torah and yeshiva even when not in class.
"Many students wanted to take pages," he said. "During the vacation one father called to tell me they were flying abroad for two weeks and the son insisted on learning Talmud with his father."
Last Sunday, a celebration was held to mark the completion of the Talmud study cycle. The gathering was attended by such dignitaries as Rabbi Haim Druckman, Chairman of Bnei Akiva Yeshivot, along with numerous others such as Minister of Science Rabbi Prof. Daniel Hershkowitz, MK Zevulun Orlev, Holon Rabbi Avraham Yosef, Modi'in Rabbis Yaakov Chikotai, David Lau, Eliyahu Elcharar, CEO of Bnei Akiva, Elchanan Glatt, director of education at Bnei Akiva, Rabbi Yehuda Felix and Assistant Rabbi Benny Nechteiler.
Following addresses by the honored rabbis, yeshiva students and their families enjoyed a special concert by renowned Israeli singer Udi Davidi, who specializes in Jewish music.
Photos: Matan Kintzlinger