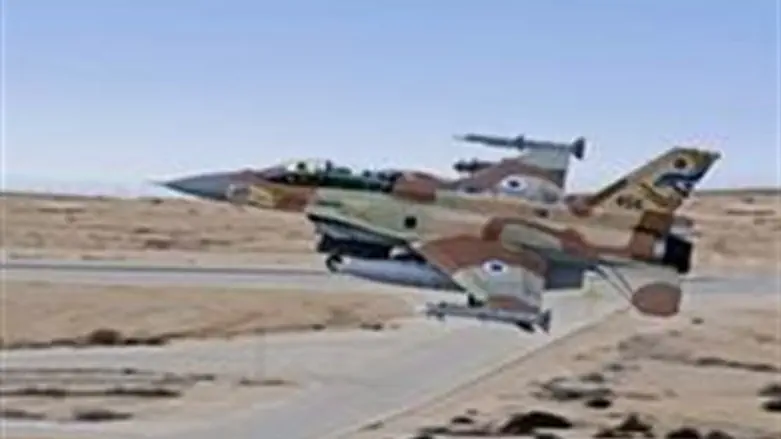 IAF F-16
IDF Photo
Israel probably will not attack Iran this coming year, but there is a greater likelihood that the United States will carry out a military assault, according to Amir Rapaport, editor of the Israel Defense magazine, a former military correspondent and author and a research associate at the Begin-Sadat Center for Strategic Studies (BESA) of Bar-Ilan University.
"A barking dog doesn't bite, and in previous times when Israel attacked the nuclear reactors of hostile countries, in Iraq and (according to foreign publications) in Syria, it did not threaten, but simply carried them out." he wrote in Israel Defense.
Concerning an attack staged by the United States, he predicted there is a "medium to high likelihood" that this would happen, and "when examining the list of possibilities, this is the most likely option."
"The U.S. has interests of its own in preventing Iran from reaching nuclear weapons (more than a commitment to Israel)," Rapaport wrote.
He added, "However, on the other hand, assuming that U.S. President Obama, a recipient of the Nobel award for peace, is re-elected, there is also a possibility that Iran will not be attacked at all.
"Another possible scenario: in March, after the Iranians enrich 250 kilograms of uranium to a level of 20%, they will announce the halting of the nuclear program, thus removing the core component behind an attack against them, and even from the continuation of the sanctions. The rest of the route towards a bomb (which would be short) will be carried out covertly, far from the prying eyes of the IAEA."
Rapaport said there is a medium likelihood that war will break out with Hizbullah, noting that "both Israel and Hizbullah have no interest in going for another round of combat in the coming year. However, a war could erupt due to the developments in Syria or in Iran, or due to an Israeli decision to prevent the transfer of strategic weapons from the crumbling Syria to Nasrallah in Lebanon at any cost."
He echoed IDF expectations that terrorists in Hamas-controlled Gaza will continue to rain rockets on southern Israel and said there is a "high likelihood" of another round of direct combat between the IDF and terrorist cells. "The question is only with regards to the scope of the combat," he wrote.
No other major surprises are in store. Syrian President Bashar Assad will be toppled, and the there is low likelihood that Egypt will cancel the 1979 Peace Treaty, according to Rapaport.
However, he thinks that there is "medium likelihood" of Arab terrorists kidnapping an Israeli soldier despite an IDF campaign warning soldiers against abduction attempts. There also is a "high likelihood" that terrorists will assassinate or attack Israeli targets overseas.
He also doubts the likelihood that the IDF will succeed in recruiting a large number of hareidi religious soldiers.  
"Despite the cancellation of the Tal Law, the IDF cannot forcefully recruit tens of thousands of yeshiva men (nor does it want to do so). What then? The hareidi service courses and the hareidi Nachal will increase here and there, nothing more," he wrote.