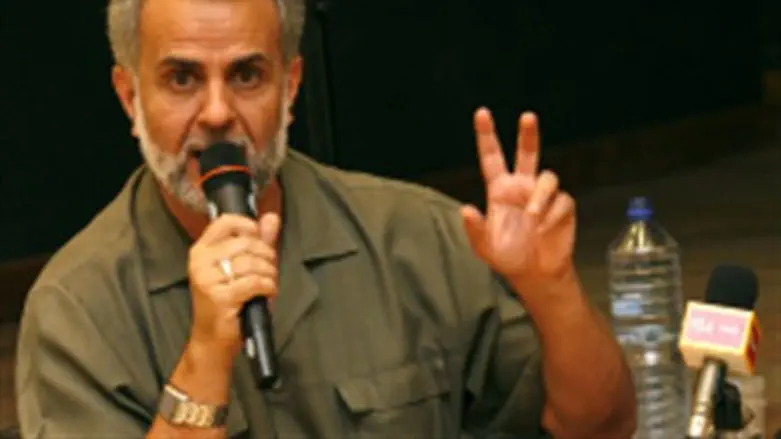 Ibrahim Sarsour
Flash 90
Arab MK Ibrahim Sarsour (Ra'am) has condemned President Barack Obama over his asking Muslim countries to ensure the security of American citizens in the wake of the attacks on the American embassy in Cairo and the consulate in Benghazi.
"At a time when the American presidential candidates compete with one another to take shelter in the lap of world Zionism and to sell the U.S. and its principles through a public tender to the highest bidder from among the campaign funders, most of which are Jews, we see how President Obama is determined to pour fuel on the fire by making statements which completely ignore the anger of Muslims in the world over the mocking of their prophet," Sarsour wrote in a press release dated September 20 and translated by Arab affairs expert Dalit Halevi.
He added that Obama's request that Muslims protect American citizens, a matter that Muslims are legally and morally committed to, without mentioning the "crime" which was committed by the "brazen gang" against "Mohammed the prophet of humanity" crosses all boundaries of good taste, and is meant to achieve goals related to the elections and "to placate groups that hate Islam and the prophet of Islam."
MK Sarsour said that he expects the President of the United States to prosecute those responsible for the film against Mohammed, including "the Jew Sam Bacile", the 100 Jews who financed the film and Egyptian-American Copts who assisted in its production.
In addition, said MK Sarsour, Obama should order his Democratic congressmen to submit a bill prohibiting insults to religions and prophets before asking Muslims to protect American citizens.
The producer of the "Innocence of Muslims" film, Nakoula Basseley Nakoula, is reportedly a Los Angeles-based 55-year-old Egyptian Copt and convicted fraudster, currently out on parole.
Nakoula used the pseudonym Sam Bacile before being identified. Police questioned him before he went into hiding with his family. While initial reports claimed that "Bacile" is Jewish and an Israeli, this was later proven to be false.
Sarsour has previously called to establish an Islamic Caliphate centered in Jerusalem. He made the comments in a speech in Arabic at a club in Israel.
In the same speech, Sarsour also lauded Lebanese terrorist organization Hizbullah for having "defeated" Israel in the Second Lebanon War in 2006. He also encouraged Hizbullah to continue working to this end in the future.
He has met with senior Hamas terrorists and has condemned Israel for arresting them. Photos found by Israeli security forces after the arrest of a Hamas official in January found that Sarsour, along with MK Masud Ghnaim, came to that official's home in Hevron in 2009, after he was released from a previous arrest, to congratulate him.