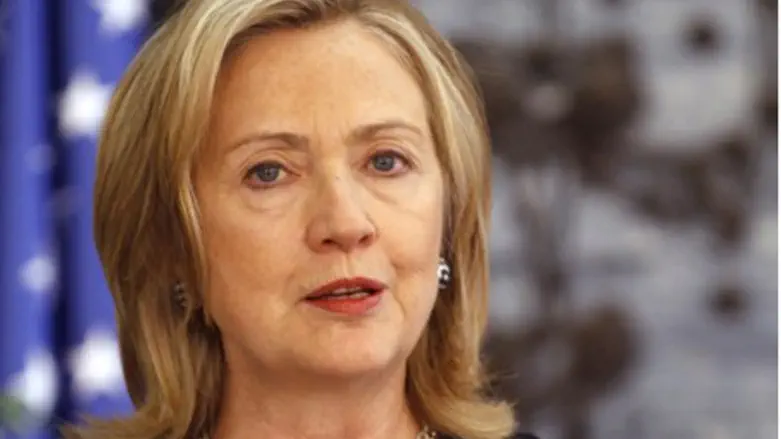 Hillary Clinton
Israel news photo: Flash 90
The U.S. State Department is set to remove the Iranian group known as the Mujahedin-e-Khalq (MEK) off the department's list of known terrorist organizations.
MEK is the most prominent member organization of the National Council of Resistance of Iran (NCRI), a coalition calling itself the "parliament-in-exile dedicated to a democratic, secular and coalition government in Iran."
While the official declaration has yet to be made, Secretary of State Hillary Clinton notified congressional leaders of her decision on Friday and is expected to make a public announcement sometime before October 1.
The United States added the MEK to its list of foreign terrorist organizations in 1997 for, among other reasons, attacks it carried out against U.S. officials in the 1970s.
U.S. administration officials have said that the decision on the group's terrorist designation hinged partly on the closure of Camp Ashraf, the MEK paramilitary base in Iraq.
Camp Ashraf's closure "is a key factor in determining whether the organization remains invested in its violent past or is committed to leaving that past behind," State Department spokeswoman Victoria Nuland said in a June statement.
Officials said this week that the final large group of dissidents had moved from Camp Ashraf to the new location, a former U.S. military base in Baghdad.
The group, also known as the People's Mujahideen Organization of Iran, calls for the overthrow of Iran's clerical leaders and fought alongside Saddam Hussein's forces in the Iran-Iraq war in the 1980s.
The group also led a guerrilla campaign against the U.S.-backed Shah of Iran during the 1970s, including attacks on American targets.
MEK abandoned its operations and renounced its violent tactics in 2003, when members of the group turned over their weapons to American forces in Iraq.
A number of Iranian Americans sympathetic to MEK had enlisted the support of a number of pro-Israel figures, as they shared a common enemy. However, pro-Israel groups generally renounced such associations with the group, due to their terrorist status.