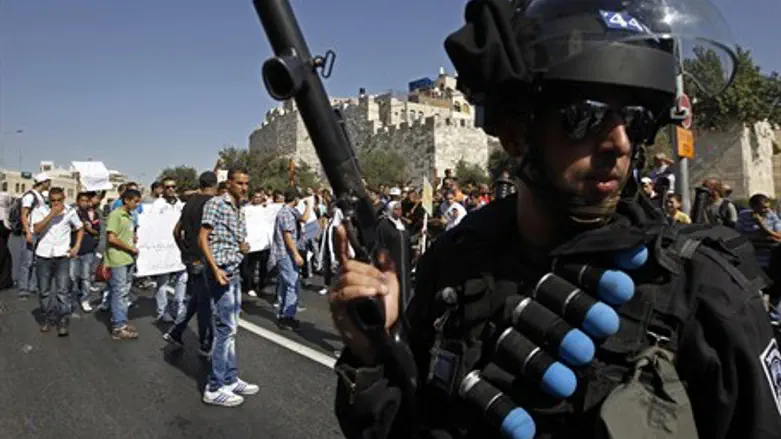 Israel Police guard Jerusalem's Old City from
Reuters
The Jordanian government has asked YouTube to remove film clips "published recently insulting Prophet Mohammed and hurting the feelings of Arabs and Muslims worldwide." 
The statement came following a week of Muslim extremist violence around the world -- which has also threatened the U.S. Embassy in in the Hashemite Kingdom and Jordan's generally peaceful population -- in response to an obscure video clip posted on the Internet that mocked the life of the Prophet Mohammed, founder of Islam.
In a statement to the official Jordanian Petra news agency, Minister of State for Media Affairs and Communications and government spokesperson Samih Maaytah said, "Insults against the Prophet, Islam or any other religion violates all constitutions and laws in the world."
Maaytah noted United Nations resolutions against religious defamation, adding that even as the government respects freedom of expression, it also "strongly rejects any insult against Prophet Mohammed, Islam or any other religion."
He strongly condemned the obscure anti-Islam video produced in the U.S. that last week triggered worldwide riots and violence by Muslim extremists, and murders of American diplomats in Libya and Afghanistan.
However, he added, "As the government condemns any attack against the Prophet, it also seeks attacking embassies as an unacceptable act that violates all diplomatic norms." The minister added the government's belief that the producers of the video were seeking to "stir sedition."
The amateurish film, which mocks the life of Mohammed, was released to the public at least six months ago. It made no headlines until the week September 11, when a brief video clip was translated into Arabic and posted to YouTube.
Its producer has since been taken into custody by U.S. federal investigators for questioning.
The film clip was broadcast on a private Egyptian television channel last weekend, sparking fierce riots around the Muslim world and serving as the excuse for massive violence against Western diplomatic missions. 
The Obama White House has also asked YouTube to review the film. According to a report published last week in the Washington Post, National Security Council spokesperson Tommy Vietor said the White House on Tuesday had "reached out to YouTube to call the video to their attention and ask them to review whether it violates their terms of use."
A day later, a spokesperson for the site said the video was "clearly within our guidelines and so will stay on YouTube." However, the site, which is owned by Google, restricted access in Libya and Egypt in response to the intensity of the attacks by Muslim rioters on American and other Western diplomatic missions.
In Libya, U.S. Ambassador Christopher Stevens was savagely murdered by "protesters" against the video. Photos posted to the Internet appeared to show that he was tortured prior to being killed, along with three other American diplomats at the U.S. Consulate in Benghazi.
Israel Police were deployed across the country as Arabs demonstrated in various locations, although most of the protests were peaceful. In Jerusalem, however, security personnel were forced to defend the Old City and block access streets around the U.S. Consulate in the eastern neighborhoods of the capital as Arab demonstrators were whipped into a violent frenzy by Muslim clerics during Friday prayers at the Al Aqsa Mosque.