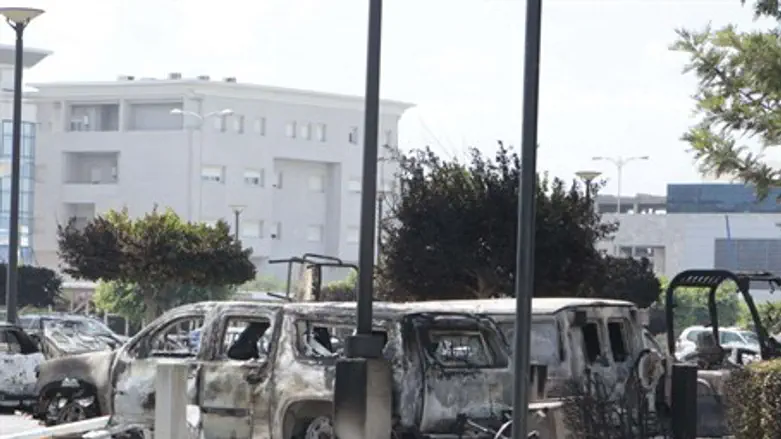 Aftermath at US embassy in Tunisia
Reuters
The Yemen-based branch of the international Al Qaeda terrorist organization, Al Qaeda in the Arabian Peninsula (AQAP), called Saturday in a statement on its website for Muslims around the world to murder American diplomats around the world.
The group is fanning the flames of worldwide Muslim protests that have been burning all week over an obscure amateur video produced in the U.S. that mocked the life of Prophet Mohammed, the founder of Islam.
"Whoever comes across America's ambassadors or emissaries should follow the example of Omar al-Mukhtar's descendants, who killed the American ambassador," the group said in its statement, posted in Arabic. "Let the step of kicking out the embassies be a step towards liberating Muslim countries from the American hegemony. The incident is so huge that the resources of the nation should be pooled together to kick out the embassies of America from Muslim lands."
Hundreds of Muslims demonstrated violently on Saturday outside or close to United States consulates and embassies in Australia, Egypt, Yemen, Israel, Bangladesh, Indonesia, Malaysia, Pakistan, Iraq, Morocco, Libya, Kuwait, Nigeria, Syria, Sudan and Kenya.
A mob of thousands of raging Muslims managed to successfully breach the security at the U.S. embassy compound in Tunisia and the American school next door. Dozens of cars parked in the lot were broken into, looted and then torched, as were two school buses. Windows in one of the embassy buildings were smashed. A gym and the school were both set ablaze. Four "protesters" died and around 50 were injured, according to various media reports.
U.S. Marines were deployed in Libya, where recently-appointed Ambassador Christopher Stevens and three other American diplomats were savagely murdered by "protesters" in Benghazi on Tuesday. Marines were also deployed in Yemen, and are being sent to Khartoum, Sudan, where security personnel were forced to fire warning shots to protect the U.S. embassy from a violent mob.
A protester was shot and killed by Egyptian police in Cairo, and five others died in Yemen on Friday.
U.S. President Barack Obama responded in his weekly radio address "the United States has a profound respect for people of all faiths... Yet there is never any justification for violence... There is no excuse for attacks on our embassies and consulates."