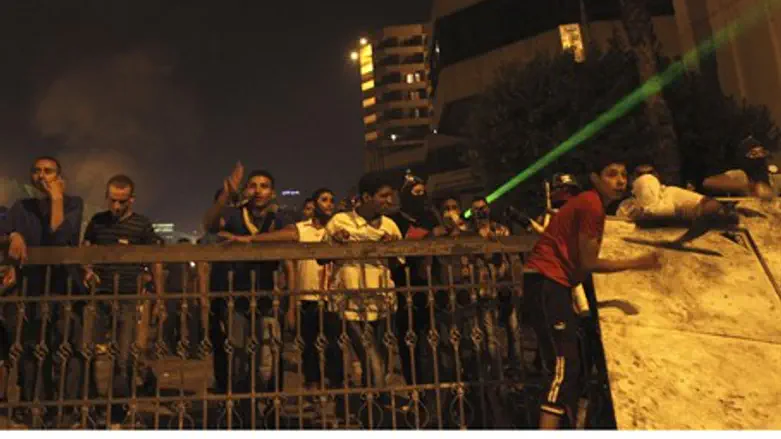 Anti-US protesters near Tahrir Square in Cair
Reuters
Egyptian security forces cleared away anti-US protesters in Cairo as riots entered a fourth day on Saturday.
One person was killed and dozens more wounded in the melee. Hundreds of demonstrators clashed with police in Tahrir Square overnight Friday and into Saturday as they tried repeatedly to reach the United States Embassy.
The police blocked the main street leading to the building with a concrete barrier to prevent them from accessing the complex.
The 36-year-old protester who died was the father of a 1-month-old baby, according to media reports. He died of his wounds at a Cairo hospital after being shot with rubber bullets while rioting in Tahrir Square.
Last Tuesday, U.S. Ambassador to Libya Christopher Stevens was murdered, along with three other American diplomats, in similar attacks on the U.S. Consulate in Benghazi. There were reports that Stevens was tortured before he was killed. The Consulate was trashed and then torched, along with the vehicles parked at the compound.
Muslims throughout the Middle East have been demonstrating for nearly a week over an amateur video produced by a California real estate mogul named Sam Bacile, a pseudonym according to media reports. 
The film, which enraged Muslims as disrespectful to Islam, satirized the life of the Prophet Mohammed, founder of the faith, using themes of violence, sexuality and comedy.