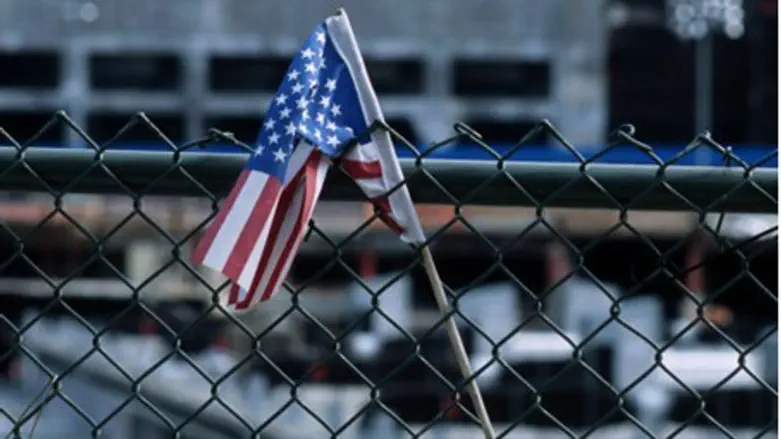 USA Flag near Ruins of the WTC
Flash 90
Abe Zelmanowitz stayed behind to help his wheelchair bound co-worker. Daniel Lewin attempted to thwart the airline hijackers. They are among the numerous September 11th heroes of all faiths and ethnic backgrounds.  

Abraham Zelmanowitz, a kippa wearing Jewish-American, was memorialized by President George W. Bush, who said in a speech, "And we have seen our national character in eloquent acts of sacrifice. Inside the World Trade Center, one man who could have saved himself stayed until the end and at the side of his quadriplegic friend."

The friend was Edward Beyea. Zelmanowitz refused to leave his co-worker at Empire Blue Cross and Blue Shield where they worked, until rescue personnel came for them. However, after the rest of the staff evacuated, rescue workers were never able to reach those still inside. Friends and family members memorialized Zelmanowitz by praising his life-long sense of self-sacrifice and commitment.
The remains of Zelmanowitz were finally buried approximately one year later at the Mount of Olives cemetery in Jerusalem.

Another victim was Daniel Lewin, an Israeli-American mathematician who was aboard American Airlines Flight 11 when it was hijacked. It is believed that Lewin attempted to fight off the hijackers.
The National Commission of Terrorist Attacks Upon the United States stated "passenger Daniel Lewin, who was seated in the row just behind Atta and Omari, was stabbed by one of the hijackers -- probably Satam al Suqami, who was seated directly behind Lewin. Lewin had served four years as an officer in the Israeli military. He may have made an attempt to stop the hijackers in front of him, not realizing that another was sitting behind him."

Zelmanowitz and Lewin were two of the many Jewish victims of the September 11th attacks. 

The five Israeli victims in the attacks were Lewin, age 31, Leon Lebor age 51, Hagai Shefi, age 34, Shai Levinhar, age 29 and Alona Avraham, 30.

Victims who retained citizenships from outside the United States could be identified by nationality. However because the United States government does not track its citizens by religion, it cannot be confirmed whether a victim was Jewish, Muslim, Christian or another faith.

According to the Jewish Week, between 400 and 500 out of the 2,977 victims were Jewish.

Although last names are not considered reliable indicators of ethnicity or religion, a brief perusing of the list of victims reveals the following names: James Patrick Berger, Steven Howard Berger, John P. Bergin, Alvin Bergsohn, Daniel D. Bergstein, William Bernstein, Roberta Bernstein, Shimmy D. Biegeleisen, Florence Cohen, Kevin Sanford Cohen,  Eric Adam Eisenberg, Peter Feidelberg, Alan D. Feinberg, Brian Fredric Goldberg, Jeffrey Grant Goldflam, Michelle Herman Goldstein, Monica Goldstein, Steven Goldstein, Andrew H. Golkin, Eileen Marsha Greenstein, Marina R. Gertsberg, Brian Fredric Goldberg, Elaine Myra Greenberg, Alan D. Kleinberg, John D. Levi, Neil D. Levin, Alisha Caren Levin, Robert Levine, Robert M. Levine, Aaron Horwitz,  Martin Paul Michelstein, Ronald Keith Milstein, Mark H. Rosen, Brooke David Rosenbaum, Linda Rosenbaum, Sheryl Lynn Rosenbaum, Lloyd D. Rosenberg, Mark Louis Rosenberg, Andrew I. Rosenblum, Joshua M. Rosenblum, Joshua A. Rosenthal, Richard David Rosenthal, Michael Craig Rothberg, Donna Marie Rothenberg, Angela Susan Scheinberg, Allan Shwartzstein, Craig A. Silverstein, William R. Steiner, Alexander Robbins Steinman, Jonathan Uman, Michael R. Wittenstein, Steven Weinberg, Michael Weinberg, Lisa Caren Weinstein Ehrlich, Scott Jeffrey Weingard, Steven Weinstein, Simon Weiser, Michael Weinberg, David T. Weiss, David M. Weiss.