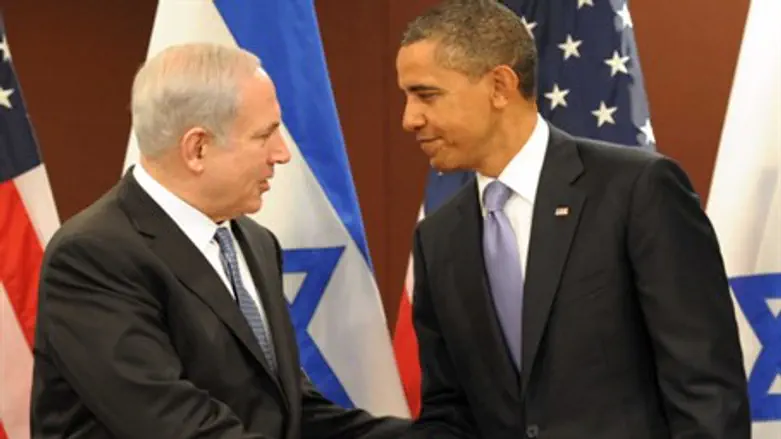 Netanyahu and Obama in NYC
Israel news photo: Flash 90
Preparations are currently underway for a meeting between Prime Minister Binyamin Netanyahu and U.S. President Barack Obama, Channel 10 News reported on Wednesday.
According to the report, Netanyahu and Obama will meet at the White House a day after Yom Kippur, when Netanyahu arrives in the U.S. to speak at the United Nations General Assembly.
It is believed that the meeting between Netanyahu and Obama will lead to Israel agreeing to postpone an attack on Iran's nuclear facilities, for a period of several months to half a year.
Channel 10 reported that during the meeting, Obama will outline for Netanyahu the red lines of the U.S. government on the Iranian nuclear program.
Obama is expected to outline two types of red lines, according to the report. The first one is the red line regarding the possibility of an American attack on Tehran's nuclear facilities and the date of such an attack, which officials estimated would take place no earlier than the summer of 2013.
In addition, said the report, Obama will make it clear to Netanyahu that the United States will intervene in an attack on Iran only if U.S. Army facilities in the region are attacked or if the Israeli population is hurt. It is estimated that, by outlining these red lines, the U.S. government will be able to convince Netanyahu to hold off on an Israeli attack for the time being.
Earlier this week Netanyahu said that the international community must set a "clear red line" in order to avoid a war over Iran's controversial nuclear program.
"This is a brutal regime that is racing ahead with its nuclear program because it doesn't see a clear red line from the international community," Netanyahu said at a meeting with Israeli and U.S. servicemen wounded in conflict.
He added, "And it doesn't see the necessary resolve and determination from the international community. The greater the resolve and the clearer the red line, the less likely we'll have conflict."
The New York Times reported on Monday that the U.S. may declare certain "red lines" that would trigger a U.S. attack if crossed by Iran.
The Obama Administration is trying to put pressure on Iran through tightening economic sanctions, placing of missile defense systems in Qatar, and weighing the launching of more cyber-attacks like Stuxnet, the newspaper reported. In addition, the administration is considering "new declarations by President Obama about what might bring about American military action, as well as covert activities that have been previously considered and rejected."
The meeting between Netanyahu and Obama might be an implementation of what was reported in The New York Times.