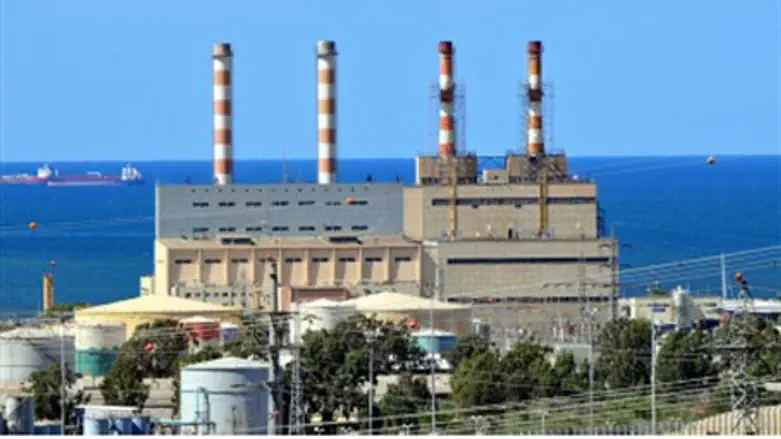 Power station, Haifa
Israel news photo: Flash 90
Prime Minister Binyamin Netanyahu is taking Hizbullah threats seriously and has ordered the IDF to protect energy facilities, some of which were targeted by the terrorist organization in Second Lebanon War, according to Globes.
Sources told the business newspaper that the Prime Minister told the Home Front division of the IDF to map out a program how to protect strategic facilities, one day after Hizbullah terrorist leader Hassan Nasrallah said his missiles would aim for power stations in the event of war.
During the 2006 war, Haifa's gas refineries and oil facilities narrowly missed being hit, and several people were killed in a missile attack on a railroad site in the port city. Missiles also exploded near the huge power stations at Hadera, located between Haifa and metropolitan Tel Aviv. A direct strike on the twin towers at the site would be catastrophic for Israel, knocking out electricity at thousands of businesses and millions of homes.
A committee including officials of the Home Front Command, the National Security Council and the Ministry of Energy and Water will determine what sites should be given top priority for protection. Aside from the power stations and fuel and gas storage tanoaks, other sites to be studied include desalination plants, water pumping stations, storage facilities, pipelines, and the fuel storage and delivery systems.
If a war were to interrupt the off-shore delivery of coal, oil and gas, Israel would be dependent on stockpiled supplies.
Hamas missiles from Gaza frequently have come dangerously close to hitting oil tanks and refineries in Ashdod and the large electricity generating station in Ashkelon.
The Iron Dome system has been installed in the south to intercept incoming missiles.