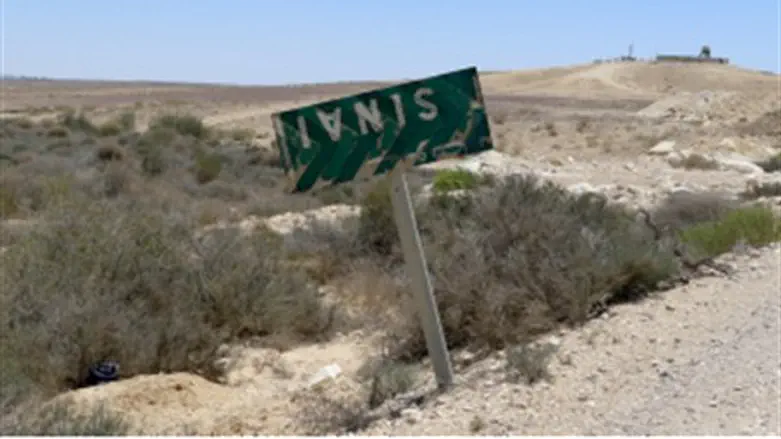 Border with Egypt
Israel news photo: Flash 90
An official with the Muslim Brotherhood recently said that the peace accord between Israel and Egypt has caused Egyptians to suffer from "endemic diseases".
The comments by Ahmad Sabi', media advisor for the Brotherhood's Freedom and Justice Party in Egypt, aired on Al-Alam TV on August 22, 2012. The comments were translated and uploaded by the Middle East Media Research Institute (MEMRI).
"[I support] amending the [Camp David] agreement, which is a mark of shame upon the Egyptian people. This agreement has been a heavy burden upon the Egyptian people, undermining Egypt's sovereignty," Sabi' said.
"It has even undermined projects for the development of the Sinai. Therefore, it is an unjust and unfair agreement, which has isolated Egypt from its Arab and Islamic environs, and from the pan-Arab effort to liberate the land of Palestine and to support Palestinian resistance.
"In addition, carcinogenic pesticides were imported from the Zionist entity, and Egyptian agriculture was made available to the Zionist entity. This led to the destruction of various sectors in Egypt," he added.
"Egypt now suffers from endemic diseases, such as various types of cancer, hepatitis, and kidney infections. All these and other diseases are the result of the carcinogenic pesticides, which were brought here along with that agreement.
"Indeed, this is an unjust agreement, which requires the reexamination of everything to do with Egypt's sovereignty over its land."
Last week, Egyptian President Mohammed Morsi said that the peace treaty with Israel will remain intact, but refrained from saying whether he would agree to meet any Israeli leaders. He said Egypt would adopt a "balanced" foreign policy in order to safeguard its interests.
Egyptian Defense Minister Abdul Fatah al-Sisi spoke made similar comments during a conversation with his Israeli counterpart, Ehud Barak, an Arabic newspaper reported on August 24.
The election of Morsi as Egypt's President has resulted in concerns that he may seek to change or even cancel the peace treaty his country signed with Israel in 1979.