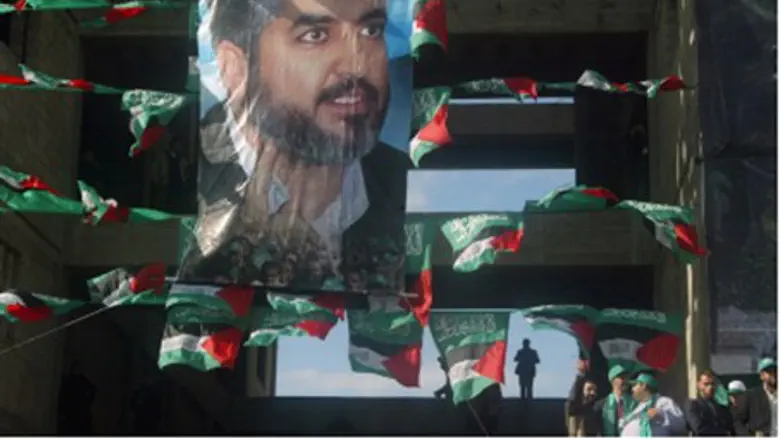 Poster of Khaled Mashaal at Gaza rally in 200
Israel news photo: Flash 90
Sandra Ruch, an Israeli-Canadian citizen who resides in Toronto, recently attacked Israel and Judaism and expressed complete solidarity with Palestinian Authority Arabs and their "struggle to liberate Palestine from Israeli occupation," according to a report in Shalom Toronto.
Ruch, who is a member of extreme leftist circles in Canada which work against the existence of Israel as a Jewish state, made the remarks in a speech at the Al-Quds day rally in Toronto on August 18. She was introduced before she spoke as "a sister from the Jewish community" and "a fighter for the Palestinians."
"This is not my Judaism over here," Ruch said, referring to demonstrations that were taking place against the rally.
"When I walked in Palestine, living in Haifa for two years, the things that I saw constantly broke my heart but also made me so confused, because how was this my Judaism and how was this my Jewish state?" she added.
"In 2009 I went twice to Gaza and I saw the massacre and the desecration," said Ruch, who promised to keep supporting a "free Palestine" forever.
She added that she likes "to annoy the Israeli government in a special way, and I keep asking you to support me while I do that." She then said that a new flotilla ship has left Sweden and "soon she is going to sail into Palestine and into Gaza and break the illegal siege on Gaza."
"But just in case something goes wrong, we'll continue to build Gaza's ark," said Ruch. "We're building a boat inside Gaza. We're working with the people of Palestine to make a new project…We're going to build a boat inside of Gaza. We need your support…If they won't let us go in we're going to sail out, because if you live in Gaza, you can't even go out and fish to feed your family because the Israeli army is shooting at you every single day."
She added, "As a Jewish woman of faith, as a woman with an Israeli passport, I remind you that you can tell all Zionists that anti-Zionism is not anti-Semitism. We have a right to speak out against this horrible and disgusting government and against Zionism."
During the same rally, a Jewish high school teacher from Toronto was warned by local police that he is inciting a riot and could be causing mass violence by carrying an Israeli flag.
Toronto police also arrested a Jew who shoved back a Muslim who punched him for not moving his "unclean" dog further away from Muslim women during the rally. The Muslim was neither arrested nor questioned.