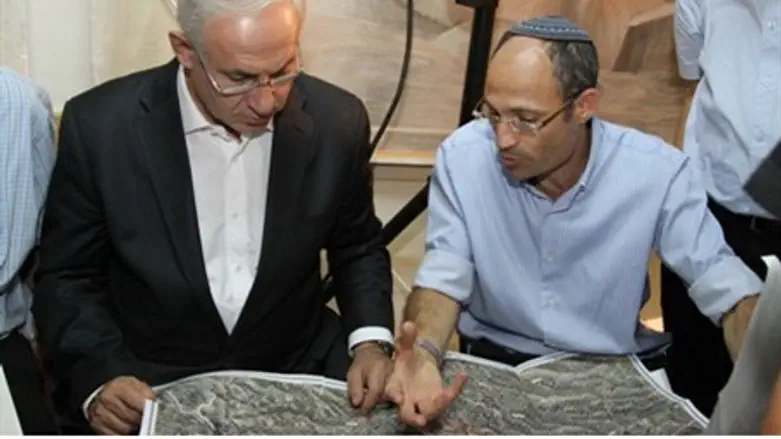 Pearl shows Netanyahu route of 'Separation Wa
(Lerner PR)Israel news photo courtesy of Gershon Elinson
Prime Minister Binyamin Netanyahu promised Gush Etzion Monday that he will "review" plans for a billion dollar separation wall that regional chairman Davidi Pearl said would physically split the region and destroy the social fabric of life that binds the Jewish communities.
The Prime Minister visited children learning on their first day of the school year Monday and later sat down with Pearl.
The wall is to be built along a route that was designed 10 years ago and does not take into account rapid growth in the area, which stretches out on both sides of Highway 60, the only north-south artery connecting Jerusalem with Gush Etzion and Kiryat Arab-Hevron.
Pearl's office said that Prime Minister Netanyahu was surprised that the wall is to be built without a review of the development in the area in the past 10 years, and Netanyahu reportedly promised to review the plans.
The security fence and wall were designed to thwart suicide bombers and other terrorists, but Pearl said its extension along the planned route would divide the Jewish communities and endanger their society based on community relationships.
Efrat Mayor Oded Revivi, Knesset Coalition leader Ze'ev Elkin and other leaders joined the discussion with the Prime Minister and Pearl, who said that spending $1 billion in the wall is a waste of money that could be used for better purposes.