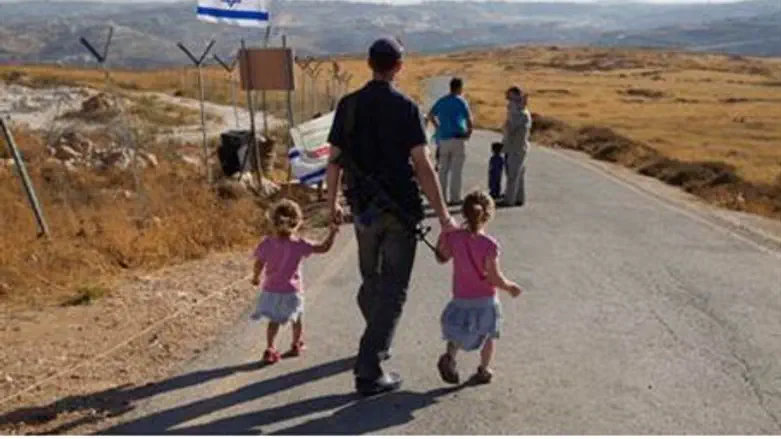 Migron resident walks with his children
Reuters
Migron residents are informing the High Court that they will not violently resist expulsion if the justices rule against them Tuesday.
In their appeal to the court to cancel the expulsion of 17 families whose land has been bought recently from alleged Palestinian Authority owners, the petition stated, "The residents of Migron inform the court they will honor their decision and they have no intention of encouraging riots or taking part in any violence in the expulsion to alternative housing."
The fate of another three dozen residents apparently has been sealed. Migron lost a case, initiated by Peace Now, which successfully challenged previous purchases of all of the land on which Migron is located.
The court ruled in favor of Peace Now even though no proof was brought from Palestinian Authority Arabs that they own the property, located in Samaria.
After the court ordered the demolition of all Migron homes, an American philanthropist helped buy three parcels of land on which the 17 families live.
The Netanyahu government promised to back the residents but then backed down when Deputy Attorney General Mike Blass decided that allowing the families to stay would not be practical since the rest of the community still is not in Jewish hands following the original court ruling that the previous purchases are not valid
The court will decide on Tuesday whether or not to accept the 17 families' appeal.
If they lose the appeal, the original August 28 expulsion date may be delayed. The residents are pointing out to the court that the alternative housing at the nearby Givat HaYekev neighborhood lacks basic facilities and in some cases not even a floor.