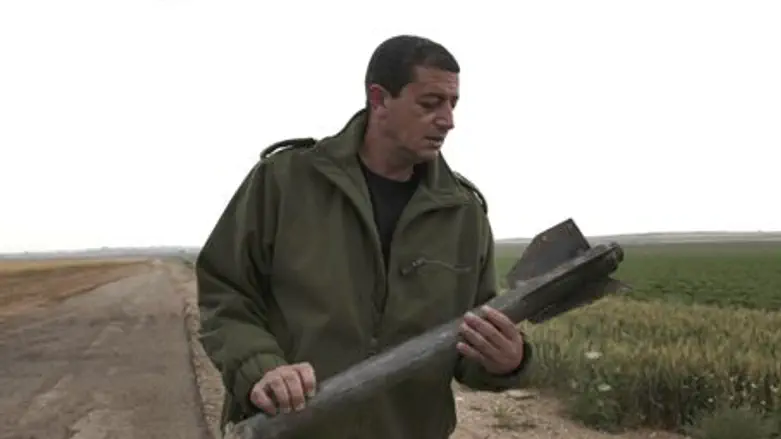 Sderot officer examines spent rocket
Israel news photo: Flash 90
Gaza terrorists fired two more Kassam rockets at the Sderot school as children were returning home from their first day at school.
Similar to the Kassam attack in the morning as children were arriving at school, the short-range missiles exploded in open areas and caused no damage or physical injuries.
Terrorists in Gaza, under the control of Hamas, have tradition of attacking the Western Negev when the school year starts. A cell identifying itself with Al Qaeda took responsibility for Sunday's Kassam attacks.
The IDF usually responds to terrorist attacks within 24 hours, although the retaliation normally is perfunctory, aimed at previously known smuggling tunnels and rocket-manufacturing and storage sites. However, the IDF has held its fire as of 3:30 p.m. Israeli time (10:30 a.m. EDT).
Israel's mainstream media also is silent.
Most newspapers and website reported Monday's morning Kassam attack but have ignored the afternoon's attacks.
Kassam rocket and mortar shelling have become part of a routine life in the Western Negev since the constant barrage began after the expulsion of Jews from Gush Katif in the summer of 2005.
Mainstream media normally reports rocket attacks only when there are serious injuries or heavy damage.
The Kassam rockets have no guidance system, and terrorists cannot purposely aim to fall near populated areas without intention of causing harm.