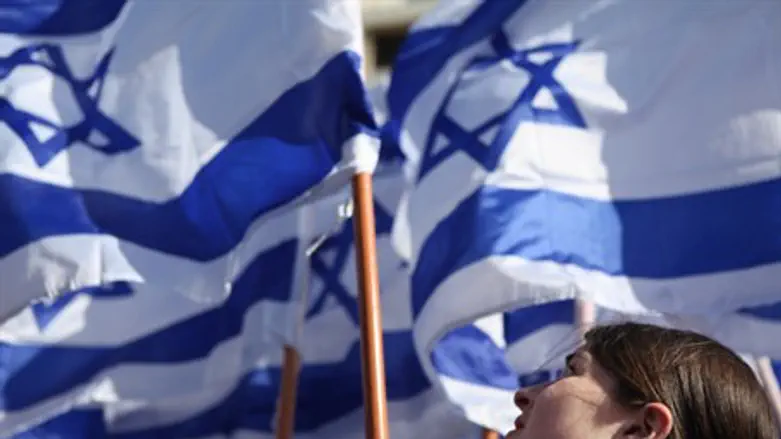 Israeli flags
Israel news photo: Flash 90
The owner of the Shangri-La hotel in Santa Monica, California, announced on Friday a number of measures aimed at repairing her standing among the Jewish community in the wake of a jury decision last week that found she had violated the civil rights of members of a Jewish group she tried to evict from her hotel in 2010.
Tehmina Adaya, the owner of the hotel, announced that she would be donating $3,600 to the Koby Mandell Foundation, which aids families of terror victims in remembrance of 13-year-old Koby, a boy whose American family had made aliya to Tekoa in Gush Etzion and who was brutally killed by terrorists, and an equal sum to the IDF Disabled Veterans Organization.
She also extended an invitation to "leaders of the Jewish and pro-Israel community" to attend a private event to be hosted by the Shangri-La in cooperation with the Zionist Organization of America (ZOA) within the next 12 months.
In a statement, Adaya said she condemned anti-Semitism, welcomed diversity and never made denigrating remarks about those who attended the 2010 event, which was sponsored by the Friends of the Israeli Defense Forces.
She said that the allegations that she made offensive remarks were based on "false information from a disgruntled former employee."
After a 10-day civil trial, a jury in California Superior Court ordered the hotel to pay the plaintiffs a combined $1.65 million in damages, statutory payments and punitive damages.
In her statement on Friday, Adaya said she planned to appeal the jury decision.
After hearing about Adaya's donations, the ZOA cancelled its planned demonstration in front of the hotel which was originally intended to "express outrage" that the hotel  had discriminated against Jews.
"The mere fear of a protest evoked these concessions," said Steve Goldberg, chairman of the ZOA's Los Angeles region and its national vice chair. "We actually got something tangible, as opposed to a group of people walking in front of a hotel."