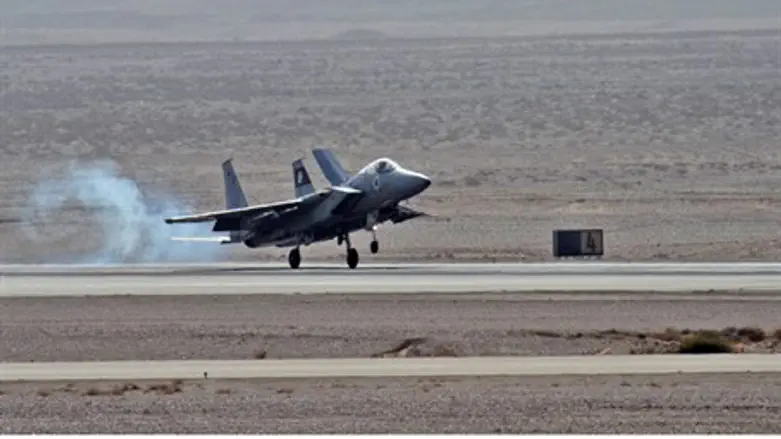 F-15 Fighter Jet
Israel news photo: Flash 90
One hundred officers in the IDF reserves, including battalion and company commanders, have sent a letter to Prime Minister Binyamin Netanyahu is which they express their full confidence in the IDF and the government, and their opposition to calls for refusal of orders.
The letter's initiators, Capt. (res.) Raz Levy and Capt. (res.) Aviel Siman Tov, say that the letter was written in response to the letter by 400 academicians, who called on IAF pilots to refuse orders in case they are instructed to attack Iran.
"We, 100 IDF officers in the reserves, in the Air Force, Navy and ground forces, hereby state that we will follow any order we are given and carry out any mission we are sent to by the military and civilian command," the letter to Netanyahu says.
"It is a well known and clear fact that our very participation in military service is an expression of the trust we place in the system. However, we feel that these days, there is a need to clarify even the obvious. 
"We decided to write this letter following the initiative calling upon Air Force pilots to refuse an order if one is given, and in order to inform you and the public that the IDF's reserve array has been and still is a strong support for the nation in Israel. 
"We strongly denounce any kind of call to refuse an order and breach the solidarity, as well as the social and national responsibility, upon which service in the IDF and its reserves rests."