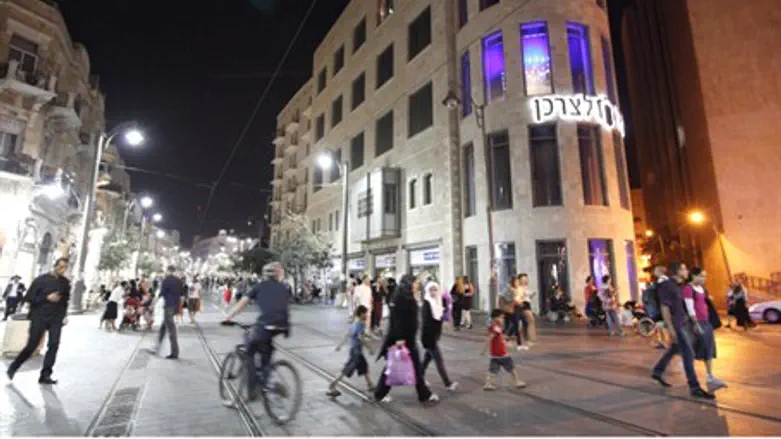 Zion Square
Flash 90
A Magen David Adom paramedic, who treated the 18-year-old Arab who was wounded in the brawl in Jerusalem's Zion Square on Thursday night, said Monday that the Arab was not bleeding but had apparently suffered dry hard blows.
Speaking to Channel 2 News, the paramedic, Neria Malkiely, said, "I happened to be there with two friends and we saw a circle of people, at the center of which was a person lying on the ground. I got closer to make sure everything is OK and there already had been people there who lifted his legs and one person who was holding his head.
"I asked what happened and the boys who were there told me that he fainted because he had hit his head," recalled Malkiely. "I approached him and noticed he was not breathing and without a pulse. If he had not received treatment in the first few minutes, he would not have made it.
"I saw no bleeding," he added, emphasizing that despite some reports, none of the boys who were involved in the brawl prevented him from treating the wounded. "They even offered to help me," he said.
On Sunday, the Jerusalem Police arrested four more suspects in the Arab-against-Jew brawl. A 19-year old Jewish man was arrested on Saturday.
Three of the additional suspects arrested were male youths aged 13 and 17, and a female youth aged 15. A 15-year-old boy was later arrested as well.
Police said more arrests can be expected, but added that they still have not decided whether to label the brawl as nationalistically motivated or criminal in nature.
On Monday, police said that the Arab who was wounded is suffering from a heart disease, which apparently is what caused him to collapse, rather than the blows he received from the other boys.
Police have also been careful not to label the attack as a "lynch" by the Jewish boys against the Arab, despite some suggestions in the Israeli media that this was the case.
Despite police not having been able to find a definite link between the brawl and nationalistic motives, Meretz Knesset Member Zahava Galon nevertheless tried on Monday to link the attack with school trips to Hevron that teach about the forefather Abraham, who bought a large plot of land that includes the Patriarchs' Cave, as recorded in the Bible.