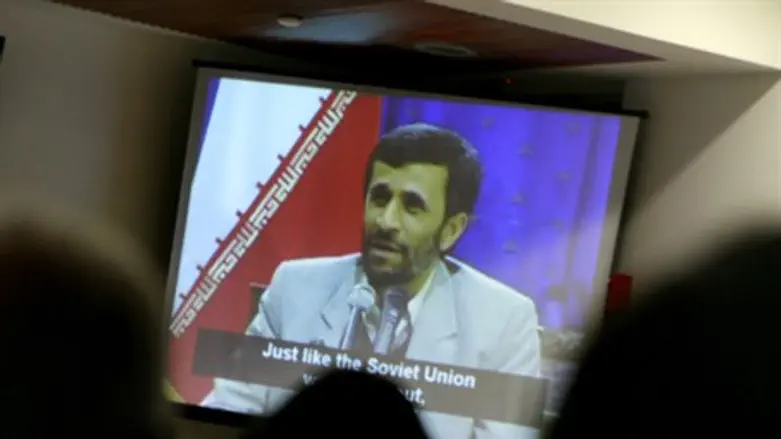 Iranian President Mahmoud Ahmadinejad
Israel news photo: Flash 90
Iran dismissed on Tuesday the possibility that Israel would launch an attack on its nuclear facilities.
Foreign Ministry spokesman Ramin Mehmanparast told reporters that the likelihood of an Israeli attack is slim, and added Iran is not taking seriously the threat of attack.
"Even if the Israeli government decides to make such a stupid move, it will not happen and Israel will suffer the consequences," Mehmanparast said.
He added, "These threats stem from the Zionists' internal problems and the social crisis there, and this indicates that they are empty."
Tehran's ISNA news agency quoted Iranian Defense Minister General Ahmad Vahidi as having that "Israel definitely doesn't have what it takes to endure Iran's might and will."
Vahidi added that Israel's threats were "a sign of weakness" by "brainless leaders."
Speculation has increased over the past few days about an Israeli strike aimed at preventing Iran from obtaining nuclear weapons. Some have speculated that such an attack by Israel could likely occur in September or October.
On Monday, the daily newspaper Maariv reported that Israel has received assurances from the Obama administration, as well as the camp of Republican presumptive nominee, Mitt Romney, that the United States will join a war against Iran on Israel's side, if such a war breaks out.
According to the report the assurances were delivered in secret messages to senior officials in the bureau of Prime Minister Binyamin Netanyahu, from officials close to Obama and from Romney political advisors as well as Republicans who served in senior roles in former administrations and are expected to serve in important roles again if Romney is elected.
On Tuesday, General Martin Dempsey, the chairman of the U.S. military's Joint Chiefs of Staff, and Defense Secretary Leon Panetta attempted to play down a possible Israeli attack in Iran.
Dempsey told reporters that he believes an attack by Israel "can delay but not destroy Iran's nuclear capabilities," while Panetta said he did not believe that Israel has made a decision regarding an attack on Iran.
Panetta added that the U.S. believes there is still room for diplomacy with Iran, echoing remarks made a day earlier by White House spokesman Jay Carney.