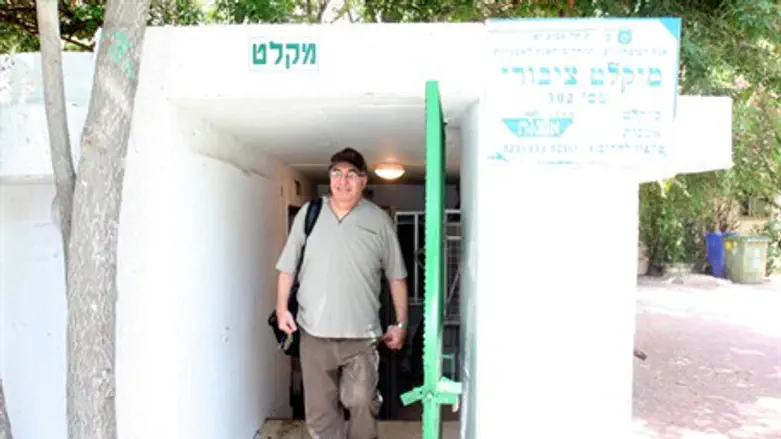 Public shelter
Israel news photo: Flash 90
It will take 24 hours to get all the bomb shelters in Tel Aviv open in the event of a missile strike, according to an official quoted on an Israeli radio station. But Home Front Command differs on the estimate.
The first statement was made by city councilman Moshe Tiomkin, who was quoted Sunday by Army Radio while discussing what might happen  in the early hours of such an attack. Within a day, he was quoted as saying, all of the city's 400 public shelters would be open and ready for use. Tiomkin is in charge of defense and emergency management for the city.
However, Home Front Command is not as confident: the closest estimate from the defense agency, in the event of a missile strike on Tel Aviv, is that it may take up to 48 hours to get all the public shelters in the coastal city open.
There are bomb shelters located in every neighborhood in Tel Aviv, but they are widely scattered and it will take some time for officials to get to them to open them up, Home Front Command said. There are 240 bomb shelters in public areas. In addition, there are 60 more shelters in underground parking garages – and another 100 shelters in schools.
Meanwhile, speaking at the start of the weekly cabinet meeting, Prime Minister Binyamin Netanyahu noted that Sunday was the launch of a week-long trial of the new SMS text missile alert system. The drill begins in the final week before Home Front Minister Matan Vilna'i leaves to take up his new post as Israel's Ambassador to China, and the prime minister took the time to list Vilnai's accomplishments during his term.
"We are investing billions in home front defense, in Iron Dome, in the Arrow, and in other systems that are under development. We are investing a lot of money in defending facilities, institutions and homes. We are holding preparedness exercises for various scenarios regarding home front defense; such an exercise is being held today," Netanyahu pointed out.
"There has been a significant improvement in our Home Front defense capabilities, in Iron Dome, in the Arrow, in structural reinforcements and shelters, in warnings and in other areas," he added.
Admitting that there are many areas in which improvements are still needed, Netanyahu nevertheless zeroed in on Iran as the number one threat upon which to focus Israel's concerns.
"One cannot say that there are no problems in this field because there always are -- but all of the threats that are currently being directed against the Israeli home front pale against a particular threat, different in scope, different in substance, and therefore I reiterate that Iran cannot be allowed to have nuclear weapons,"  he said.