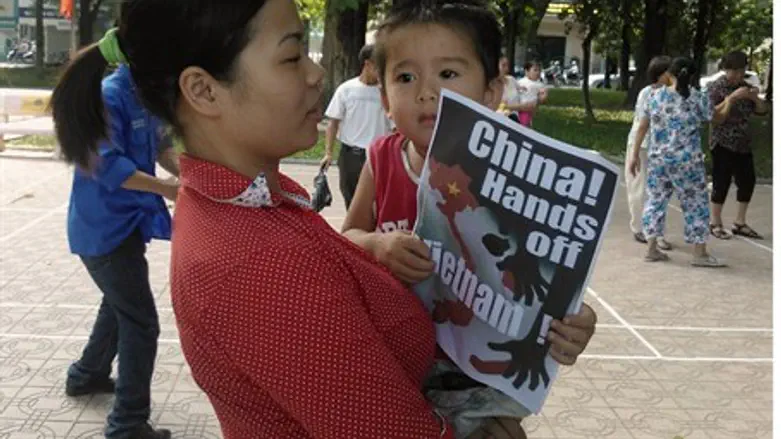 Anti-China protester in Hanoi
Reuters
A long-standing territorial dispute is escalating between the United States and China in the contested South China Sea.
Half the world's shipping makes its way through the waterway – about $5 trillion in trade annually -- and tensions are rising over an area wherein may lie a potential repository of massive oil reserves as well.
The Chinese Foreign Ministry summoned U.S. Deputy Chief of Mission Robert Wang on Saturday to make "serious representations" on the disputes between the two nations. Among the issues raised were disagreements over Taiwan, Tibet, and sovereignty over the South China Sea. The South China Sea has become a potential military flashpoint for the two world powers, with the two rattling verbal sabers over the waterway's maritime boundaries.
Beijing, Vietnam and the Philippines are all deeply invested in the race to develop the natural resources possibly buried there, but six different nations claim rights to the sea. Anti-China protests are growing in neighboring nations, particularly in the Vietnamese capital of Hanoi. 
China, however, claims absolute sovereignty over the entire South China Sea and its islands, and last month established an entire city – a military garrison – to administer the area.
The move prompted a statement Friday by the U.S. State Department, which said it was monitoring the situation closely, adding China's actions run "counter to collaborative diplomatic efforts to resolve differences and risk further escalating tensions in the region."
China's response, delivered Saturday in Beijing by Assistant Foreign Minister Zhang Kunsheng to Wang, was pointed.
The U.S., said China, "disregarded the facts, confused right with wrong, sent a seriously wrong signal and did not help with efforts by relevant parties to maintain peace and stability in the South China Sea or the Asia Pacific. China expresses its strong dissatisfaction and resolute opposition, urges the U.S. side to immediately to mend the error of its ways, earnestly respect China's sovereignty and territorial integrity and do more to genuinely benefit stability and prosperity in the Asia Pacific."