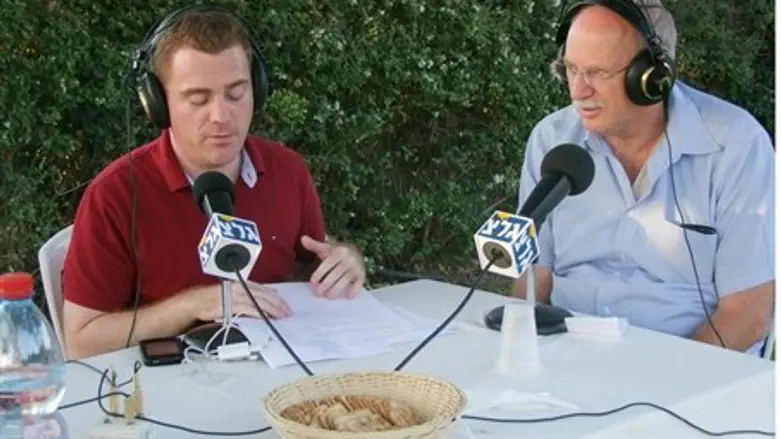 Army Radio live from Susya
PR Photo
A live broadcast on Army Radio from Susya, near Hevron, went ahead as scheduled on Wednesday, despite attempts by leftist anarchists to stop it.
Prior to the broadcast, the anarchists protested outside the station's studios in Yafo in an attempt to get the station to cancel it. However, Army Radio Commander Yaron Dekel instructed the show to go ahead as scheduled.
The show was hosted by the station's political analyst Idan Kweller, who spoke to local residents and presented the beautiful face of the Jewish settlement in Susya and in all Judea and Samaria.
The program presented the local education systems, entrepreneurs, farmers, youth, artists and tourism industry, among others.
Mount Hevron Regional Council head Zviki Bar-Hai, who was a guest on the program, welcomed Army Radio's decision to run the program as scheduled despite the protest.
"Since the inception of the settlement enterprise we have marched together with the IDF and our sons serve in the army and see it as a Zionist institution, which is essential to the revival of the country," he said, adding, "Army Radio Commander Yaron Dekel is worthy of praise for not succumbing to the pressure by all kinds of anarchist factors who tried to hitch a ride on the backs of the settlement and of the IDF."
Army Radio responded by saying, "Army Radio reflects in its broadcasting all the parts of Israeli society and will continue to broadcast from anywhere. We have no interest in being drawn into political debates, but rather wish to do our job loyally for our listening audience everywhere."