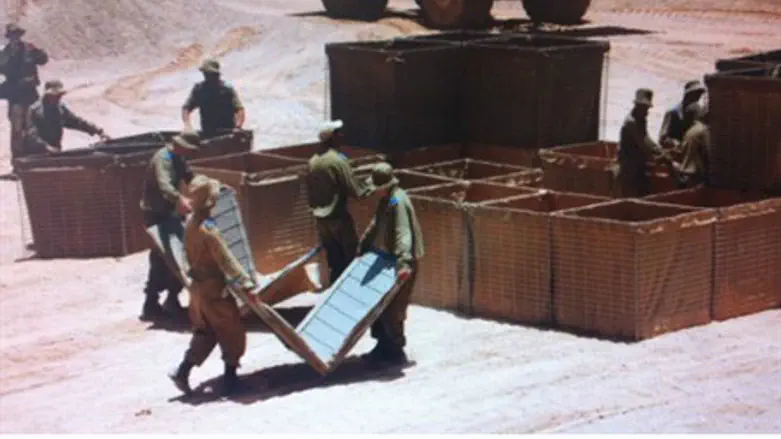 New 'instant bunker'
IDF Website
The IDF Engineering Corps is testing a new "instant bunker" that infantry units can build for protection in the field, with little or no help from heavy machinery, reports the IDF Website.
"A maneuvering force in the field that has reached its destination and intends to stop for some time needs defenses against the fire it will probably absorb while it is inside hostile territory," explained Major Andresh Shenkar, Head of Fortifications Department in the Engineering Corps.
The major advantage of the new bunkers being tested is the easy and quick way in which they are assembled. The IDF's current field bunkers, which are manufactured by the British HESCO firm, require bulldozers and other heavy machinery to construct.
"The new bunker is one that a Ground Forces company can assemble in a very short time, with no dependence on machinery," Maj. Shenkar said. "Every component in it can be lifted by two people. This is a great advantage – within a short time and with no outside help, the fighters will be completely protected from the relevant threat."
The bunker is constructed from baskets that the soldiers fill with sand, either independently or with the aid of bulldozers. The baskets can be transported to the soldiers' location by motor vehicles, or parachuted with the aid of the IDF's new GPS-guided parachuting systems.
The bunker – named "the Yehuda Fortress" for its manufacturer, "Yehuda Reshatot" – was successfully tested last week.