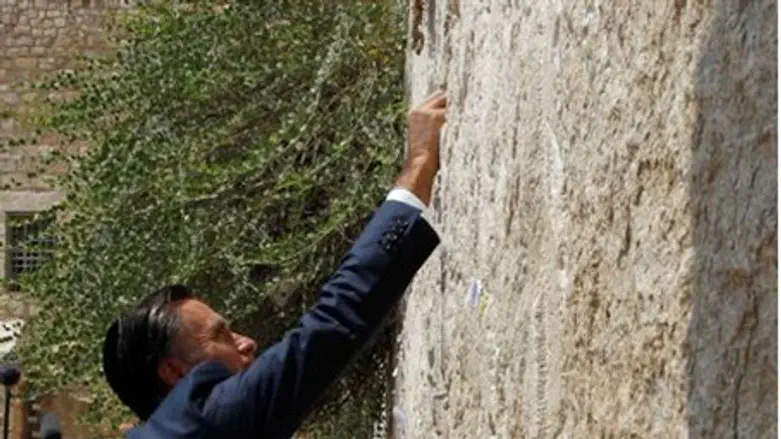 Romney places note at Western Wall Monday
Reuters
Mitt Romney's love for Jerusalem is part of his Mormon faith's 170-year-old ties to Israel and its dictate to "rebuild the city and the Temple."
"I'm sure that Mitt was moved by the wall's otherworldly grandeur. As a devout Mormon, it's likely that he was pondering some of these thoughts as he offered up his written prayer to G-d," wrote Mormon Mark Paredes in the Los Angeles Jewish Journal Monday.
Paredes, author of the author of  the newspaper's "Jews and Mormons" blog, said that Latter Day Saints (LDS) "have dedicated the Land of Israel for the gathering of the Jewish people on many occasions, beginning with Elder Orson Hyde in 1841. In 1845, all of the apostles called on the Jews 'in the name of the Messiah, to prepare, to return to Jerusalem in Palestine; and to rebuild that city and temple unto the Lord.'"
Public places in Netanya and on the Mount of Olives in Jerusalem have been dedicated to Hyde.
*Israel is the only country in the world whose creation was expressly called for and supported by Mormon leaders," according to Paredes who added, "George Albert Smith, LDS Church President at the time of Israel's creation in 1948, publicly and privately assured many Jewish leaders of his support for their efforts to establish a Jewish state."
*Israel Bonds were first issued in 1951. One year later, Church President David O. McKay purchased $5,000 of Israel Bonds on behalf of the church, stating that he was doing this 'to show our sympathy with the effort being made to establish the Jews in their homeland.'"  
Romney's love for Israel apparently is a personal love and not a political posture. Paredes wrote, "As more and more Jews and Israelis become familiar with the history of LDS-Jewish relations, they will better understand why Mormons feel a special closeness to them."
Many Israelis are suspicious that Mormons may be engaging in missionary work, especially at Brigham Young University's Jerusalem Center for Near Eastern Studies, which overlooks the Old City. Mormon officials have denied the charges.
Paredes wrote four weeks ago that Orthodox Jews in the United States work much more closely with Mormons than Conservative and Reform Jews.
"The Orthodox community is the most appealing partner because its moral vision is closest to the LDS idea," according to Paredes. Orthodox leaders and the LDS Church "oppose abortion in most circumstances, they denounce pornography, and they largely share Mormons' preference for a society of strong families based on traditional Judeo-Christian values," he wrote.
"Generally speaking, LDS dialogue with Reform and Conservative Jews, while wonderful and even inspiring, is on a different level. While more liberal Jews usually more open to interfaith outreach efforts than the Orthodox, it is sometimes difficult for them to overlook differences they may have with the LDS Church on gay marriage, abortion, and other controversial moral issues…. With one exception, on the few occasions when I have encountered hostility towards my church in the Jewish community, it has come from secular or Reform Jews over political/moral issues."