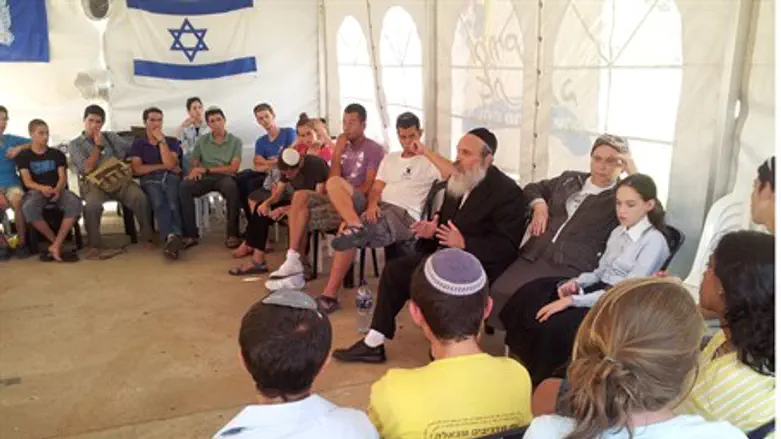 Youths at Bnei Akiva tent
Yoni Kempinski
The Bnei Akiva youth movement set up a tent in the center of Jerusalem this week, for the purpose of meeting and holding mutual dialogue with members of other youth movements. Arutz Sheva visited the tent.
The tent has attracted members from a wide range of movements, both religious and non-religious, and the sides have held long discussions on various issues affecting the Israeli public.
Throughout the week, the youth are holding meetings with various public figures, including members of different Knesset factions, from the head of the Hadash party MK Dov Khenin to MK Rabbi Haim Amsalem, a former member of Shas who recently formed the Whole Nation party. In addition, the youth receive lessons on different topics, are shown films and participate in a variety of other activities.
Rabbi David Stav, co-founder and chairman of the Tzohar rabbis organization, explained the reasoning behind the decision to set up the special tent during the period of the Nine Days of mourning between the 1st and 9th of Av, leading to Tisha B'Av.
"For many years we were looking for ways to do something positive during the Nine Days," he said. "We wanted to do something that will try to change one of the problems that might have created the root of the destruction of the Second Temple, which was destroyed because of the hatred that existed and that still exists between people."
One of the things the tent project tries to achieve, Rabbi Stav explained, "is to allow people from the edges of the Jewish society in Israel and from the mainstream of the religious stream in Israel to meet each other and find points of positive activities that other parts of society are doing. It's an opportunity to find good things in other people in Israeli society."
MK Khenin stressed the importance of discussing issues with one another, even when there is no agreement between two opposing sides.
"Even when we do not agree with each other, we should know that each one of us is trying to do his best for the future of Israeli society," he said. "Therefore we have to speak with each other, we have to debate, we have to listen. There are things that we don't agree about, but there are things about which we will find that we agree."