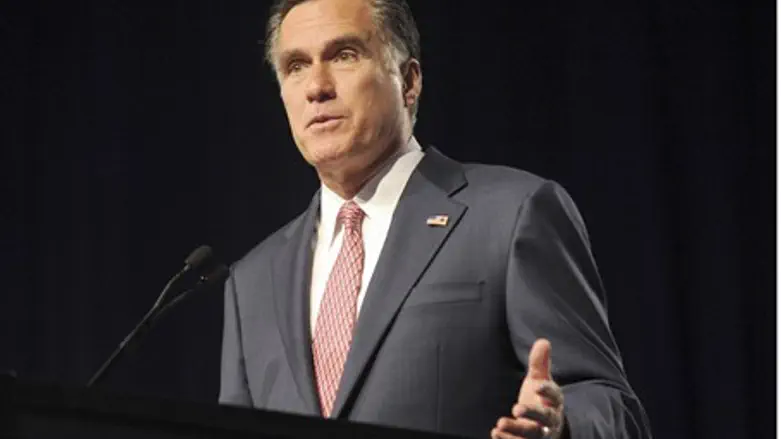 Republican presidential candidate Mitt Romney
Reuters
On the eve of his trip to Israel, the UK and Poland, US Republican Presidential candidate Mitt Romney on Tuesday lashed out at President Obama's "shabby treatment" of Israel, saying that the people of Israel "deserve better than what they have received from the leader of the free world."
Speaking at the Veterans of Foreign Wars National Convention in Nevada, Romney accused the incumbent president of being "fond of lecturing Israel's leaders."
The speech highlighted that the Obama administration "betrayed" the trust of America's closest allies, namely Israel, whose leaders the president "is fond of lecturing."
"He has undermined their position, which was tough enough as it was," Romney said. "And even at the United Nations, to the enthusiastic applause of Israel's enemies, he spoke as if our closest ally in the Middle East was the problem."
The Republican presidential candidate also alleged, without mentioning specifics, that officials in the Obama administration have leaked details of American cyber-attacks on Iran and have not taken sufficient actions to curtail the regime's nuclear aspirations.
Romney warned that "there is no greater danger in the world today than the prospect of the ayatollahs in Tehran possessing nuclear weapons capability."
He continued by asking, "Yet for all the talks and conferences, all of the extensions and assurances, can anyone say we are farther from this danger now than four years ago?"
A "clear line must be drawn: There must be a full suspension of any enrichment, period. It is a mistake – and sometimes a tragic one – to think that firmness in American foreign policy can bring only tension or conflict.  The surest path to danger is always weakness and indecision," Romney said.
"I will tell you right here — before I leave — what I think of this administration's shabby treatment of one of our finest friends," Romney said, describing Obama's inadequate support for Israel.
Romney plans to visit the UK for two days, attending the opening ceremony of the London Olympics on July 27, before flying to Israel.