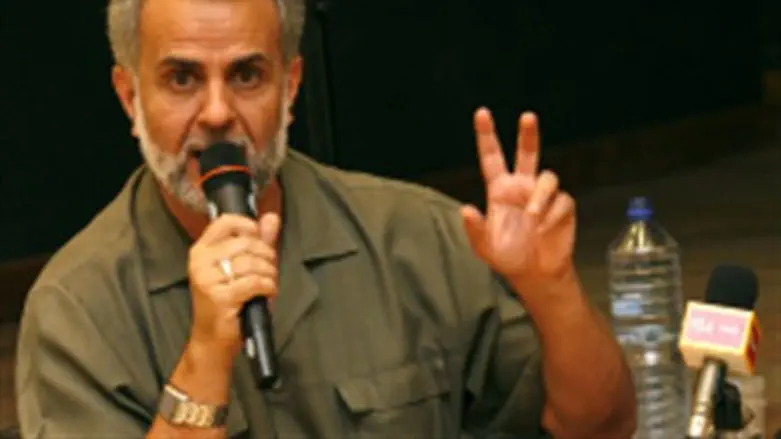 Ibrahim Sarsour
Flash 90
Arab MK Ibrahim Sarsour (Ra'am) met on Monday in Hevron with Aziz Duwaik, the Speaker of the Palestinian Legislative Council (PLC) and one of the senior leaders of the Hamas terror group, and congratulated him on his release from an Israeli prison.
Sarsour was accompanied during the visit by senior officials in the Islamic Movement.
Duwaik was arrested in January on suspicion of terrorist activity. He was previously arrested and jailed in August of 2006, but was released in 2009.
In a statement distributed to the media Sarsur said, "The arrest of Palestinian members of parliament and ministers is part of the Israeli occupation which continues to deny the rights of Palestinians, and this will only strengthen the steadfastness of the people and the national Palestinian leadership."
The statement said that Duwaik praised the activities of the Islamic Movement and of the Ra'am party as well as Sarsour's activities in helping Palestinian Authority Arab prisoners who are serving time in Israeli prisons.
This is not the first time that Sarsour, who serves as an elected member of Israel's parliament, has met Duwaik.
Photos found by Israeli security forces after Duwaik's arrest in January found that Sarsour, along with MK Masud Ghnaim, came to Duwaik's home in Hevron in 2009, after he was released from the previous arrest, to congratulate him.
Sarsour has previously called to establish an Islamic Caliphate centered in Jerusalem. He made the comments in a speech in Arabic at a club in Israel.
In the same speech, Sarsour also lauded Lebanese terrorist organization Hizbullah for having "defeated" Israel in the Second Lebanon War in 2006. He also encouraged Hizbullah to continue working to this end in the future.
Arab MK Hanin Zoabi has also been caught in photos in which she is seen rubbing elbows with well-known Hamas figures, including Duwaik and another Hamas member who has served time in Israel for alleged involvement in a terror organization.